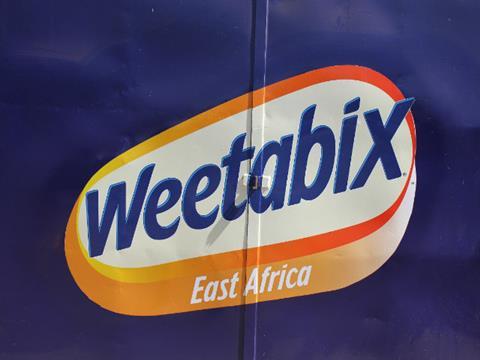 Weetabix has taken a big bite out of its East African partner in a bid to bolster its international growth strategy and boost flagging sales.
The controlling interest in Weetabix East Africa gives the cereal maker access to the high growth Kenyan market, the company said.
South African cereal manufacturer Pioneer Foods, which snapped up the Fruit Bowl brand in the UK in August, has also teamed up with Weetabix and acquired a 49.9% minority shareholding in the African business.
Weetabix has been manufactured in East Africa for more than 40 years and is the number one breakfast cereal in Kenya – and the region – with a significant market share.
A strong local management team, product range expansion and significant capital investment in processing facilities have all contributed to rapid growth at Weetabix East Africa.
The new joint venture is part of Weetabix's international growth strategy and is aligned with Pioneer Foods ambitions to grow sales of its product range throughout Africa.
Weetabix CEO Giles Turrell said: "We're delighted to have Pioneer Foods join us to continue to drive the success of our business in Kenya and beyond.
"Weetabix sees this market as a strategic opportunity and is excited by the new opportunities that will arise through partnering with Pioneer Foods."
Global revenues at Weetabix fell 1.3% to £432.8m in the year to 2 January 2016, partly the result of a 2.4% slowdown in the UK, its largest market by far, as The Grocer reported last month.
Weetabix has had ties with Weetabix East Africa since the first production of Weetabix in the region in the 1970s, through a partnership with the Manji family who run the business under licence from Weetabix UK.
Weetabix East Africa, which also imports Weetaflakes, Weetabix Minis, Alpen Muesli, Weetos, Fruit & Fibre and Bran Flake, plans to expand its breakfast product portfolio under the new ownership.
Pioneer Foods is the second biggest food and drinks maker listed on the Johannesburg Stock Exchange and generated sales of R18.7bn (£1bn) in 2015. It holds licences for Marmite, Bovril and Lipton Ice Tea in South Africa and also owns UK private label cereal maker Bokomo, supplying granola, muesli and porridge to the big four supermarkets, as well as discounters Aldi and Lidl. The business also manufactures Weetabix-style cereal under the Weet-Bix brand.
Pioneer CEO Phil Roux said: "This acquisition represents a rare opportunity for Pioneer to enter the East African market with a credible partner and a highly profitable, branded business."
A statement to the Johannesburg Stock added: "The business enjoys attractive levels of profitability, and will provide a platform to introduce a wider Pioneer Foods basket of products, given an established and well developed route to market in various East African countries."
The Weetbix East Africa deal – for undisclosed sums – is subject to Kenyan regulatory approvals.