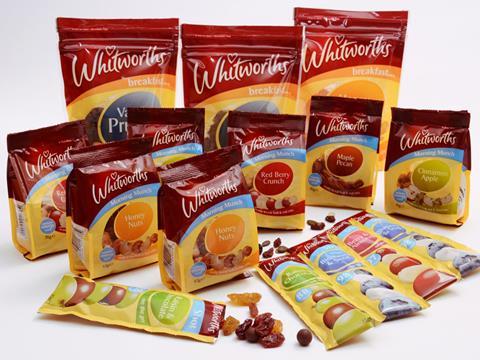 New Turkish owner Anatolia is "well aware of the challenges facing Whitworths" and is confident it can turn around the struggling dried fruit and nuts supplier.

A supplier to Whitworths for almost 30 years, Anatolia snapped up the 131-year-old business from private equity owner Equistone.

Anatolia director Koray Oz said the board had "full confidence" in improving Whitworths and would give "full support" to the current management team, led by CEO Mark Fairweather, who remain in place.

The Grocer understands Anatolia paid only £15m-£16m for Whitworths - despite estimated bank loans of £40m. In addition Equistone failed to make a return on the £40m-£50m it had invested.

The deal, which creates one of Europe's largest dried fruit, nut and seeds businesses, was an "extraordinarily good outcome", a City source said. "It is a genuinely good home for Whitworths, gives the Turkish grower a significant route to the UK market and provides proper trade synergies."

Equistone acquired Whitworths from European Capital in a deal worth £90m in 2013. It has struggled ever since. CEO Peter Utting and CFO Peter Unsworth were replaced in late 2015/early 2016 amid tough trading conditions. But some of its wounds were self inflicted with the failure of a new IT system in 2016 causing quality service levels for its retail customers to drop "very sharply", a source said. This resulted in £30m of lost own-label business in 2016 alone as customers received less stock than ordered. Own label supply to the supermarkets and discounters makes up about £65m of its £150m revenues, the source added.

Sainsbury's - its biggest own-label contract, worth between £30m and £40m a year - served notice earlier this year that it would switch its own label nut supply from October.

A Whitworths source said: "Retailers hate service quality issues because it means they have empty shelves and that can cause serious damage to performance. And that, in turn, leads to a supplier being unable to have conversations with its retail customers about promotional activity, price rises, product development, brand extension or new launches until service quality levels have been fixed."

The source added that Whitworths had haemorrhaged sales staff. At least four commercial managers, responsible for relationships with Asda/Morrisons, Waitrose, Sainsbury's, Co-op and the discount channel, left between February and December 2016.

Business unit director Nik Langrish-Dixon also left October 2016 after 10 months at the business, followed by sales director Greg Pitts in March this year after nine months in the role.

"It is extraordinary that Whitworths hasn't actually lost any business yet, pending the Sainsbury's withdrawal later this year, given where service quality levels were," the source said. "It wouldn't happen with own label supply in any other category. It probably tells you there are very few alternative suppliers for dried fruit and nuts in the UK."

Whitworths has not filed accounts at Companies House for 2015/16 and extended its year end from the start of May to 31 October 2016. Revenues in the year to 2 May 2015 stood at £157.8m, with adjusted EBITDA of £11m. However, the IT disruptions resulted in lost margins and pushed EBITDA down to about £2m last year, sources said. With the loss of the Sainsbury's contract Whitworths is expected to record a loss of £2m this year.

However a Whitworths spokesman said: "Whitworths operate in an own label environment and retailers do move contracts around. We continue to be a key supplier with Sainsbury's and other retailers for the long term."

Another City source added that service levels had returned to more than 95% this year. Anatolia had a "good chance" of a full turnaround at Whitworths, he added ,with branded sales growing by 10.1% and 29.4% in the 52 weeks and 12 weeks to 23 April 2017 respectively [Kantar Worldpanel]. But it would need to invest in the "tired and old" Northamptonshire factory, he added.

Anatolia was confident Whitworths would be turned around. "Being a partner with Whitworths for almost 30 years Anatolia was well aware of the challenges facing Whitworths facing lately," said Oz.

"The situation with Sainsbury's was clearly indicated by our due diligence, together with financial details of how Whitworths has been performing over the last few years."

"Anatolia has good relationship with almost all major UK retailers, including Sainsbury's, and is familiar with their high expectations."

Oz added: "Anatolia has strategic plans, which will be implemented in the short run and over the course of a few years, to turn the business around.

"Understandably, it is too early to give specific details of the investments that will be carried out to assist structural improvements."

Anatolia, established in 1965, operates in the international dried fruit markets, serving more than 15 countries, including Australia, Japan, New Zealand and mainland Europe.