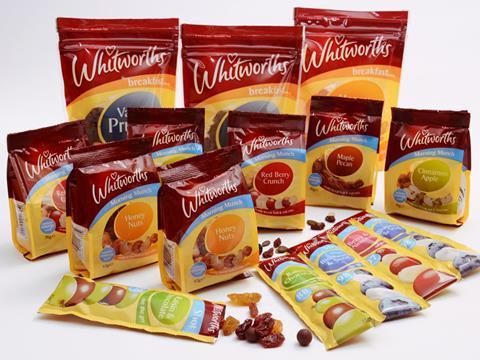 With historic dried fruit and nuts brand Whitworths up for sale, its private equity owner is set to take a bath on its investment, The Grocer understands.

Equistone acquired Whitworths, which can trace its roots back to 1886, in 2013 from European Capital in a deal valued at £90m, but a sales process kicked off in January, with lenders engaging investment advisory firm Houlihan Lokey to explore all options to help them recover part of the significant sums owed, The Grocer understands.

Total borrowing at Whitworths stood at £98m in the year to 2 May 2015, including bank loans of £42.5m, according to the latest accounts.

A sale is not expected to cover the amount owed to the banks, which meant Equistone was unlikely to see any return on its investment, which stood at between £40m and £50m, City sources added.

Whitworths revenues nudged up about £500k to £157.8m in the year to 2 May 2015, with adjusted EBITDA of £11m and operating profits of £7.4m. It has yet to file figures for 2015/16 and extended its accounting period at Companies House in January to 31 October 2016, but EBITDA is understood to have fallen significantly amidst challenging conditions, with a raft of supermarket delistings. Operational issues had also hit Whitworths, in particular disruption caused by a new IT system, sources said.

A Whitworths spokesman said: "We can confirm we are in a process with Houlihan Lokey that is exploring new investment opportunities. We are currently in negotiations with a number of interested parties as we look to support our ambitious plans for growth.

"Whitworths brands continue to perform well, with value sales demonstrating a 6.1% year-on-year growth and a 19% increase in sales in Q1 [Kantar Worldpanel w/e 26 March 2017].

"The business remains profitable, making Whitworths an attractive proposition for investment. As this is a live and ongoing process, it would be inappropriate to provide more detail at this stage. Once this process has reached a definitive conclusion, we will communicate any further update through all of the appropriate channels."

The spokesman added on the issue of delistings: "In the past two years, we have reformulated a number of our products to ensure we remain responsive to consumer taste trends. The majority of these products are still stocked by major retailers and continue to sell well to this day."

Whitworths has been hit by the rise of innovative new brands such as Graze and Bear, as well as a decline in the home baking sector - which had experienced strong growth fuelled by The Great British Bake Off - in the past two years.

Former CEO Peter Utting, who led the business for seven years, was replaced in October 2015 by Mark Fairweather, with no reason given at the time for his departure.