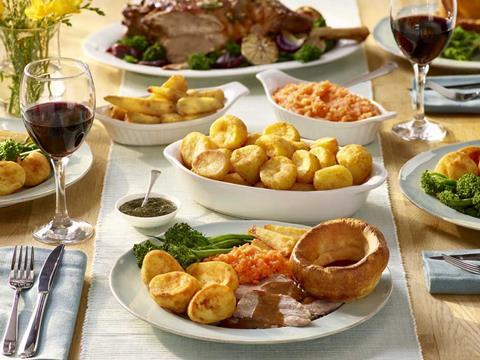 William Jackson Food Group has pledged to plough cash back into the business after agreeing a bumper £210m sale of its key Aunt Bessie's brand to Birds Eye owner Nomad Foods.

It is understood Nomad made an unsolicited approach to William Jackson for the brand, making an offer and tabling a growth plan management felt unable to turn down.

The €240m (£210m) price was "extremely good" for William Jackson, according to one City source, while another dubbed it "an offer it couldn't refuse".

William Jackson Food Group CEO Norman Soutar said it had "taken Aunt Bessie's a long way" since it established the brand in 1995, but conceded that Nomad was better placed to grow the businesses at a faster rate in the future.

The family-owned business now planned to re-invest a significant chunk of the proceeds, he added. "The sale provides a brilliant opportunity for future development of the Aunt Bessie's business and also gives our group greater opportunity to grow and invest into the future."

He pointed to the £50m it has invested in its Hull bakery over the past seven years and the fact it is on track to open a new £40m Corby bakery this summer.

The group would look to make strategic acquisitions, Soutar suggested, adding William Jackson "is very focused on having a portfolio of great food businesses and we will continue to build and develop this portfolio".

It is understood the group is already actively considering acquisitions options and is likely to make its first deal since buying The Food Doctor in 2016 within the coming months.

"They have been pretty good at being open to new trends when you look at their acquisition of Abel & Cole," said one dealmaker. "However, they have traditionally had a disciplined approach to investment so I wouldn't expect them to go on a spending spree."

Aunt Bessie's is the group's biggest brand, but the source noted William Jackson had not been afraid to sell off significant chunks of its business before, pointing to the 2004 sales of its Jacksons Stores portfolio to Sainsbury's.

Nomad Food Group, which owns Birds Eye, Goodfella's and Findus in continental Europe, will integrate Aunt Bessie's into its Birds Eye UK operation. It has pledged to continue producing Aunt Bessie's from the brand's existing factor in Hull and will take on around 400 transferring staff.

One source suggested William Jackson's decision to sell would have been influenced by the structural decline in Sunday lunches. "Everything connected with Sunday lunch has had its day. Probably the best days of that particular brand have been and gone," the source said.

In The Grocer's Britain's Biggest Brands in March, Aunt Bessie's slipped four places to 57 after sales fell 7.1% last year.
However, Birds Eye UK MD Wayne Hudson argued the category's decline is modest at worst. "The category remains massive," he said. "There are 1.3bn meal occasions and our products feature in less than 20% of those - we see a huge opportunity here."

"Millennials are prepared to pay a little more for good quality product and are also seeking convenience as fewer young people have culinary skills."

He stressed that the Birds Eye brand and the frozen category generally was in decline when Nomad first acquired the business, but both have since turned around back to growth. "We've got a proven model with the Birds Eye brand in brining a category back to growth, so we know what we have to do."

He also noted the group already had experience in the potato sector with its frozen waffles products.

One commentator agreed the acquisition made "strategic sense" for Nomad, taking a "well-loved brand that had been taken as far as it could" by its current owner. "It also further strengthens its stranglehold on retailers in the freezer aisle," the source added.

The deal, which will be funded through cash and debt, is expected to complete in the third quarter subject to approvals.

Hudson said the pair have alerted the UK's Competition and Markets Authority to the deal, but he did not "envisage any competition issues".

However, the latest acquisition - in addition to its €225m swoop for Goodfella's in January - would seem to make further consolidation in the UK difficult from a competition perspective. "Given they are now heavily in seafood, ready meals, pizzas and now veg it's difficult to see where else they can go in the UK," said one source.

Hudson suggested further consolidation opportunities were likely to be in continental Europe. "From a Nomad perspective, there remain huge opportunities across Europe for further consolidation," he said.

Aunt Bessie's generated revenues and adjusted EBITDA of approximately €123m and €23m respectively in its most recent financial year to March 2018.

Credit Suisse acted as financial advisor to Nomad Foods on the transaction. Stamford Partners acted as advisor to William Jackson & Son.