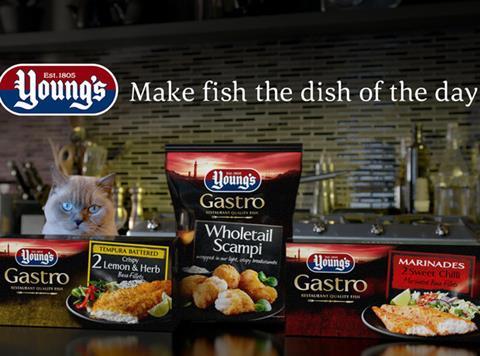 The sale of Young's Seafood to private equity firm CapVest is now in its "final stages", The Grocer understands.
Industry and City sources this week told The Grocer negotiations with CapVest were now approaching completion. It comes more than six months after Young's was put up for sale by owners Lion Capital, Bain Capital and HPS Investment Partners in April.
CapVest, the former owner of the processor from 2002 to 2008, emerged as the "preferred buyer" for Young's last month.
Global seafood giants including Princes owner Mitsubishi, Cooke Aquaculture, Thai Union, Marine Harvest and Samherji-owned UK Fisheries have all been linked with the business during a protracted bidding process.
"I was told it was a done deal weeks ago," said one dealmaker. "We are just waiting for an official announcement but I expect that to come out soon."
A second source said "an announcement is due", but stressed the "devil will be in the detail", amid fevered last-minute negotiations over the asking price. A third agreed the two parties were now in the final stages of negotiations. "But like any set of negotiations, the final stages are not straightforward," they said.
The Grocer understands CapVest is the only player in negotiations, but sources suggested other interested parties would be "banging on the door" if the deal fell at the final hurdle.
Sources also confirmed that CapVest was looking to acquire Young's through fresh meat arm Karro Foods, which it purchased for £180m in March 2017.
A potential sale of Young's has been discussed as far back as 2015, when Nomad acquired parent Findus Group. This led to the spinning off of the business to comply with competition regulations.
Rumours of a sale re-emerged in April 2017, when Young's CEO Bill Showalter was forced to speak out to insist the supplier was on a sound financial footing following speculation the business faced an "uphill struggle" to cover its payment in kind notes due by 2019.
While a price tag of £200m has been mooted, one industry source suggested the final deal price could be "sub-£150m, due to the need to make allowances over the company's pension liabilities", which are understood to range from £15m to 25m. Both Young's and CapVest declined to comment.
Young's reported pre-tax losses of £39.3m for the year to 30 September 2017, after a huge writedown owing to the loss of a Sainsbury's own label fish contract. However, sales rose to £523.3m for the 12-month period, from £496.5m in 2016, as the loss of the Sainsbury's contract in 2015 was balanced by frozen and chilled contract wins.
In addition to Karro, CapVest also owns Ireland-based food group Valeo Foods, which has been on the acquisition trail in recent months and bought confectionery maker Tangerine in August.