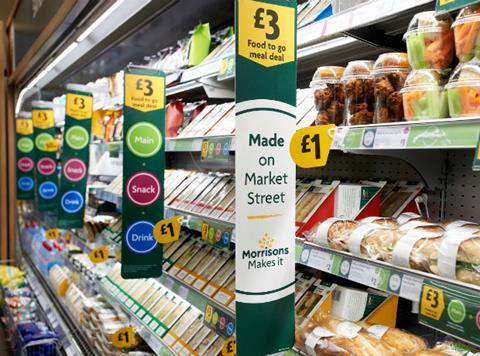 Morrisons has extended the range of items available in its £3 lunchtime meal deal to include a wider range of snacks and accompaniments.

From today shoppers will be able to choose from 370 lines including products from its The Best premium own-label range.

New premium sandwiches include The Best katsu chicken pouch as well as The Best ham hock, cheddar & chutney sandwich.

The retailer has also added a number of more exotic options including a black sushi rice vegan wrap; pineapple, guava & baobab juice; and beef and horseradish on a rye baguette. The new autumn range includes dishes from over 20 countries, including Argentina, Japan, Turkey, Morocco, Thailand and the US.

The new options come after research for the retailer found British consumers are eating more foods from around the world for lunch.

"Customers have told us they want all lunch items included in our meal deal. They also want more exciting foods, such as those they've eaten in restaurants or on holiday," said Morrisons meal deal buyer Sian Ayling.

The retailer was keen to emphasise the savings available in the £3 deal. A fish sushi selection, a fruit shaker and a coconut water bought separately would come to £7.01.