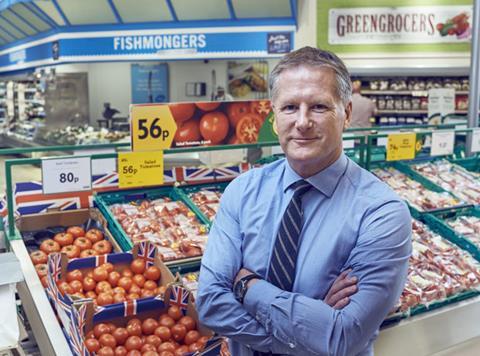 Top story
Profits jumped 8.6% at Morrisons (MRW) on the back of strong revenue growth in its wholesale arm.
The grocer also announced plans to pay out another special dividend, its third in twelve months, as it declared its turnaround "well on track".
Underlying pre-tax profits matched expectations, rising 8.6% to £406m for the year to January 2019, although total pre-tax profits slipped 15% to £320m on the back of loan repayments and investment in distribution and stock provisioning.
Like-for-like sales, excluding fuel, surged 4.8% as it was buoyed by 3.3% growth in its wholesale arm, which benefitted from its expanded supply agreement with convenience chain McColl's.
A target of reaching wholesale revenues of more than £700m was achieved ahead of plan, the retailer said. It expects to boost this by supplying a remaining 300 McColl's by the end of the year.
Wholesale growth had also been boosted by the roll-out of the Morrisons Daily fascia, which is now in 115 locations.
Retail sales rose 1.5% over the year, although growth slowed in the final quarter, with like-for-like retail sales only up 0.6%.
It also benefitted from three store openings during the financial year, n Abergavenny, St Ives in Cambridgeshire, and Acocks Green in Birmingham.
The retailer announced plans to pay out a special dividend of 4p per share, on top of its final dividend on 4.75p per share, following special pay-outs in both September and March last year.
"A third consecutive year of strong sales and profit growth, and a total annual dividend up over 150% during those three years, show the Morrisons turnaround is well on track," commented chief executive David Potts.
"This turnaround is based on improving the shopping trip for customers, making Morrisons more popular and accessible.
"Most pleasing of all was another big increase in customer satisfaction, now up a full 20 percentage points in the last four years, which is all down to the friendliness and expertise of our team of unique food makers and shopkeepers."
Andrew Higginson, Chairman, said: "In a challenging period for customers and an ever-changing British retail scene, the turnaround at Morrisons has continued to progress well.
"I am delighted that sales and profit again grew strongly, and that we are able to share that growth with our shareholders through increased dividends."
Morrisons shares rose 0.9% to 227.1p in early trading.
Morning update
Retail technology business Eagle Eye Solutions (EYE) saw revenues surge 30% in the six months to 31 December 2018, on the back of strong growth for its AIR platform.
The AIM-listed company, which operates digital customer loyalty programmes and coupons, expects sales and volumes growth to continue in the second half of the year.
Revenues in the past six months rose 30% to £8m, following 41% growth for its AIR platform which now drives 93% of company sales.
The technology business also saw losses decrease over the period, with adjusted EBITDA falling £0.3m compared to £1.4m in the same period last year.
Eagle Eye also heavily benefitted from blue chip client wins, including Burger King and Waitrose, it said.
The growth in sales matched the business' expectations, and it expects a positive performance in the current half-year, due to "new wins and strong growth in the audience network".
"We are pleased to report on a first half in which we have delivered against all our stated objectives. We continue to make strong financial and operational progress," said Tim Mason, chief executive of Eagle Eye.
"We are delighted to add Waitrose and Burger King to our client roster, giving us further evidence that major blue chip companies see the Eagle Eye AIR platform as a key part of competing in today's digital retail environment.
"With high levels of recurring revenue, increasing transaction volumes and a significant sales pipeline, the board looks to the remainder of the year and beyond with confidence."
The FTSE 100 has dipped slightly this morning, falling just 0.1% to 7,150pts as Brexit uncertainty overshadows the Chancellor's spring statement.
The early risers this morning include Paypoint (PAY). up 4% to 909.9p, Eagle Eye Solutions (EYE), up 2.8% to 146p, and Coca-Cola HBC (CCH), up 0.7% to 2,640p.
The early fallers include Devro (DVO), down 4.7% to 184p, Purecircle (PURE), down 3.2% to 242p, Just Eat (JE.), down 2.1% to 739.2p amd McColl's (MCLS), down 1.5% to 80p.
Yesterday in the city
Despite a day of Brexit uncertainty, the FTSE 100 rose 0.3% to 7,151pts, as it benefitted from weakness in the pound.
Stevia producer Purecircle (PURE) rose 1.3% to 250p despite posting a 5% sales slump in the year to 31 December 2018.
Domino's Pizza Group (DOM) also posted annual sales yesterday, rising 0.7% to 234.7p, after it announced 4.6% like-for-like sales growth in the UK last year.
Other risers included Devro (DVO), up 4.7% to 193p, Marston's (MARS), up 1.6% to 99p, and Fevertree drinks (FEVR), up 1.2% to 2,754p.
The UK's biggest buyer of supermarkets last year, the Supermarket Income REIT dropped 1.1% to 102.8p after it announced plans to raise another £25m to drive asset targets.
Other fallers included Total Produce (TOT), down 3.1% to 155p, Hotel Chocolat (HOTC), down 2.9% to 335p and McColl's (MCLS), down 2.6% to 81.6p.