Both paper and plastic industries are frustrated at a lack of transparency from the supermarket
It is almost taken for granted that eliminating plastic is good for the environment, but when it comes to carrier bags, the truth is less clear.
Some historic reports, including a decade-old one from the Northern Ireland Assembly, have suggested (whisper it) that paper has a higher overall carbon footprint because it is heavier in transit and uses more energy in production. But studies also tend to be dated, focusing on single-use plastic bags. Since supermarkets scrapped those in 2018, the more urgent question now is whether paper can be an improvement on plastic bags-for-life.
There was every sign of a breakthrough last week, when Morrisons announced it was scrapping plastic bags-for-life in all stores and instead offering reusable paper ones. A life-cycle assessment by the University of Sheffield had shown the paper bags, first trialled two years ago, had a lower carbon footprint than Morrisons' plastic equivalent, the retailer said.
Was it a decisive moment in the debate? Perhaps. But Morrisons has refused to release details of the report. And it has led to criticism from the paper and plastic industry alike.
The report was "commercially sensitive" Morrisons told The Grocer, offering only to attempt to address "specific questions" about it. It said the bags had been compared "on a whole life-cycle, cradle-to-grave, basis", comparing "the materials, energy, water and waste" in production, along with "customer use and reuse, transportation, disposal and recycling". The methodology took into consideration weight, volume and strength and all manufacturing processes.
The paper bag had a lower impact in terms of global warming and water consumption, Morrisons said, but it chose not to reveal by how much.
It also said the report assumed both types of bag would be used the same number of times, but not by how many.
The study informed the decision along with research into customer preference and the eight-store trial, which found the number of bags issued fell overall as shoppers reused or brought their own bags.
"Additionally, paper bags don't lead to plastic pollution and can be easily recycled at home in kerbside recycling," added a spokeswoman.
Morrisons did not clarify how the plastic bag was disposed of for the purposes of the life-cycle study.
"They may have based it on the assumption you can put plastic bags into household collections," says British Plastics Federation senior industrial issues executive Angela Fredericks. "I can understand that, but a lot of the retailers are looking at front-of-store collections."
In-store recycling
Tesco, Sainsbury's and the Co-op all have such store recycling points where plastic bags can be deposited. Along with government proposals for more consistent household recycling collections by 2023, it stands to improve the life-cycle carbon efficiency of plastic bags, Fredericks says.
She also notes Morrisons' failure to disclose the proportion of recycled content in the bags. "We know a lot of bags-for-life incorporate high levels of recycled content, which offsets the carbon emissions," she says.
The Confederation of Paper Industries welcomes a confirmation from Morrisons that the analysis adhered with ISO14040 and the EC's Product Environmental Footprint guidance, which set a framework for such comparisons. "It's the one bullet point in their answers which gives me some confidence," says CPI director of packaging affairs Andy Barnetson.
But it does not address the questions raised by the BPF and Barnetson is "frustrated" there is not more to go on. "The results sound promising but I would have expected at least an executive summary," he says.
"There may be elements that are commercially sensitive but nobody is going to take this seriously until there is more detail. I can understand why the BPF have responded as they have."
There has been some other recent research. Scientists at Singapore's Nanyang Technological University last year reported finding paper bags had a greater environmental impact than reusable plastic ones used 50 times or more. But they also noted other parts of the world, with different waste management systems, would see different results.
Although Morrisons may hold it, conclusive evidence more directly relevant to this country remains elusive.
"I still can't give you a study that proves absolutely one is better than the other, and I would challenge plastics to do so," adds Barnetson.
Other supermarkets
Morrisons isn't the only supermarket seeking to cut out plastic bags for life. Here's how some of the others are doing.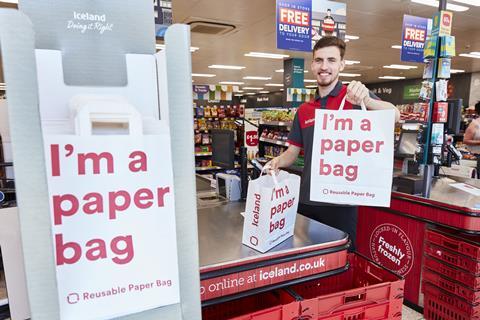 Tesco: The strategy of the UK's biggest retailer is to encourage customers to reuse plastic bags-for-life as many times as possible. The bags are made from 100% recycled content and Tesco replaces them free of charge once they are worn out, as well as providing recycling points at stores. Last week, Tesco confirmed it would remove plastic bags for life from online orders, after temporarily reintroducing them as a Covid safety measure.
Aldi: Launched a trial in June 2019 that saw half the discounter's estate offering a new paper bag and the other half a new compostable plastic one. The trial was to run for two months, after which the option most popular with customers would be rolled out to all stores. Aldi said this week it now sold the compostable bags in all stores for 5p and large paper bags for 15p.
Lidl: Launched a trial in 2019 removing plastic bags-for-life in Welsh stores, over concern too many shoppers were treating them as single-use. Customers were still be able to buy a heavier-duty and more expensive plastic bag or a cotton and jute bag. If successful, the initiative would be extended to all stores, saving up to a claimed 2,500 tonnes of plastic annually, or 80 million bags. Lidl said this week the Welsh trial was ongoing. It continues to offer plastic bags-for-life in other stores, along with the heavier-duty and jute options.
Iceland: Replaced plastic bags-for-life with a 15p "extra strong" paper bag in a single-store trial in Hackney in July 2019. The plan was to also offer the new paper bag alongside the plastic one in 40 other stores. Both trials were to run for six months. This week Iceland said the paper bags were now in every store, while 50 branches were plastic bag-free.
Waitrose: Shortly after Morrisons launched its paper bag trial, in August last year, Waitrose said it was also looking at eliminating plastic bags for life. The retailer told The Grocer it was planning to launch a trial later that year which would be extended to all its stores if successful. This week, a spokesman said it was currently trialling the removal of 10p bags for life in a small number of shops with a view to a potential rollout.


Steve is deputy news editor at The Grocer.

He's responsible for covering online grocery and the discounters, and for editing The Grocer's analysis features. He's an experienced journalist who has contributed to a range of national newspapers including The Mail on Sunday.

Follow Steve on Twitter: @Steve_Farrell_