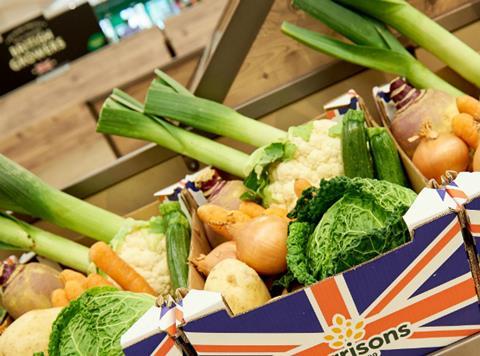 It's hard to disagree with Morrisons when it says that "not all supermarkets are the same. Morrisons is the most distinctive of the big four". The emphasis it has placed on building on this distinctiveness, and communicating it effectively, has underpinned the recovery of the grocer.
What a recovery it has been. Last month, David Potts hailed the dawn of a "new Morrisons". He was well within his rights: the grocer had just delivered a 40% jump in profits and its seventh consecutive quarter of sales growth.
Cast yourself back to when Potts joined Morrisons in 2015: his was a job of huge challenge, with his arrival following a set of annual results that included a collapse in profitability, a huge property impairment charge and ongoing reductions in capex. There's been a genuine turnaround.
Central to Morrisons' recent success has been a focus on home-grown, British food.
In July, Morrisons became the first of the UK's major supermarkets to commit to ensuring that all the fresh meat it sells is British. Last week it announced it would be offering discounts and extra loyalty points on over 1,400 home-grown products in support of British Food Fortnight. And it has just launched a £3 wonky veg box, containing 4.2kg of vegetables, all sourced from British growers.
It's a far cry from Tesco's fictitious, yet quintessentially British sounding Willow Farms and Nightingale Farms.
According to YouGov, Morrisons' customers have a strong affiliation with gardening – driving understanding of British seasons and compassion for farmers – and as the UK departs the EU, there is a sense that our produce has never been more important.
Our love of British comes down to logic and emotion. We want to support British business, and British farmers to boost our own economy. Those of us who are environmentally aware want to reduce our carbon footprint. We also have an emotional, patriotic, bond to our country: a love for the part of humanity we're given to live among and the land we're given to tread, which extends (literally) to the fruit it bears.
This approach is working for Morrisons – particularly alongside its focus on local, donating all unsold food to local community groups. The current battleground between the biggest supermarkets is focused on value and quality (which Morrisons also excels in), as well as re-energising personnel to deliver improved service, revamping fresh departments to create greater authority in key categories like meat and produce, overhauling process to minimise out-of-stocks and sharpening promotional proposition. But there are opportunities beyond this for Morrisons to persuade customers to spend with it.
Distinctiveness will only get Morrisons so far. To grow its customer base and tempt shoppers to switch store allegiance, it must focus on rewarding shopper loyalty. Most shoppers feel emotionally disconnected from their main grocery store because they feel unrewarded for the loyalty that they show it.
By providing tangible and meaningful rewards for frequent shoppers, Morrisons has an opportunity to forge more of a closer bond with customers, elevate the relationship from inertia to advocacy and swell its shopper base.
Bryan Roberts is global insights analyst at tcc global