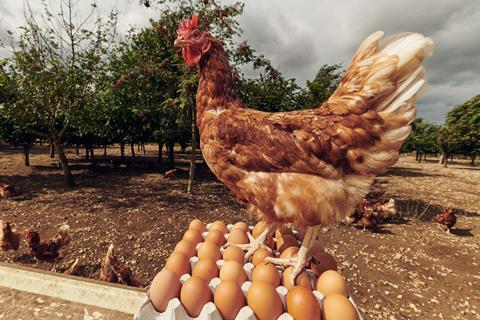 Morrisons is to pay a premium back to farmers from the price of a new free-range egg line after expanding its For Farmers fresh food range into the egg category.
The retailer's For Farmers Chuckle Eggs go on sale this week in 491 stores and online (rsp: £1.99/dozen) and will give 12p from every pack back to the farmers who produced the eggs.
Morrisons said the money raised from sales of the medium-sized eggs would be ploughed back into a series of projects designed to create more biodiverse farmland and improve animal welfare.
These include establishing better free-range farmland by planting and managing woodland or creating new or adapted buildings for birds in a bid to "create a healthier environment for happier hens, who naturally tend to lay more eggs", Morrisons said.
Farms will also be encouraged to set aside land for wild bees and insects as part of a push by the retailer to establish dedicated bumblebee and insect habitats.
The move follows warnings of plunging profit margins for free-range egg farmers amid a surge in production, with the British Free Range Egg Producers Association stating in October that production had grown by 14% since 2017, with the UK laying flock now numbering almost 25 million hens.
Morrisons first launched its For Farmers brand for milk and other dairy products in 2015 at the height of the dairy crisis and amid farmer protests across the UK over the low retail price of milk in the mults.
The range now includes milk, cream, cheese, butter and eggs and has, to date, raised £17m in extra cash for British farmers through its retail price premium.
"Improving animal welfare and looking after our farmed and natural environment is important for us and our customers," said Morrisons head of agriculture Sophie Throup.
"By giving back to our egg farmers, they can create the highest-welfare outside and indoor conditions for their hens," she added. "Planting woodland, pollen and nectar-rich habitats will also bring huge and wider benefits to our countryside and support sustainable food production into the future."
The launch of Chuckle Eggs comes as Morrisons became the first of the big four to sell only free-range eggs in February, and was hailed by British Egg Industry Council CEO Mark Williams.
"We believe it is very important to encourage free-range hens to go outside and fully explore the range around the hen house. That's why the British Lion scheme actively encourages farmers to plant trees that give a natural canopy for the hens, helping the birds to feel protected, alongside activities that encourage the birds to come outside and enjoy the natural environment."
BFREPA CEO Robert Gooch also welcomed the move.
"Maintaining and enhancing the environment requires investment from farmers and BFREPA welcomes the support Morrisons is offering to its producers. Our members have planted in excess of one million trees on ranges to create a natural habitat for their birds, and many have entered long-term environmental stewardship schemes which operate across their whole farm," he said.
"Consumers expect our farmers to continue to look after the environment in the same way they do their hens, so any additional financial support from further up the supply chain will be put to good use."