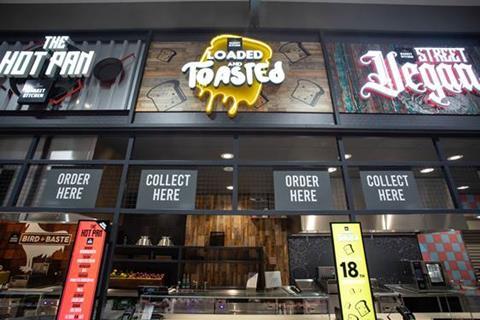 Morrisons is launching a new vegan food to go and delivery concept targeting students and young families at its new store in Camden.
The store, which has been opened as a temporary supermarket whilst the Morrisons store in Chalk Farm is rebuilt, includes the fourth Morrisons' Market Kitchen.
The supermarket said the street vegan concept would include "indulgent vegan food from plant-based burgers with fresh slaw and oozy vegan cheese sauce to loaded vegan hot dogs and dirty vegan fries".
The temporary store also includes another new concept from Morrisons, Loaded & Toasted, featuring grilled sandwiches as well as selling coffees and milkshakes.
From next week food from the new store will be available to order via Deliveroo.
Morrisons said the temporary store would offer a smaller selection of groceries than the existing store did and so customers looking to do a 'big' shop are advised to use the nearby Morrisons London Holloway store.
It said it would look to include elements of the store that prove successful in the new store, which is expected to take several years as part of a major redevelopment of the area.
Previous versions of its Market Kitchens have been opened in Canning Town, Manchester and Birmingham.
"We are pleased to open our temporary store while our existing store is being rebuilt," said Camden store manager Michael Burnett. "We know it involves some changes for our customers but are excited to be able to offer our Market Street meals to our customers. The chefs use our fresh Market Street ingredients to create these delicious seasonal meals that are made to order for our customers."