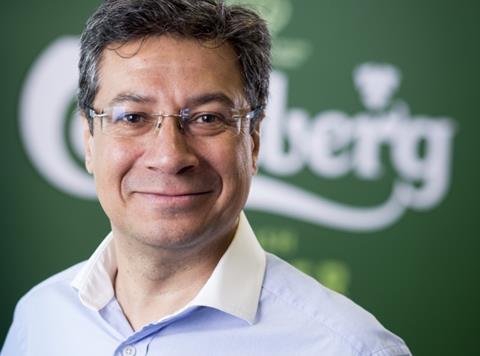 There goes another UK drinks boss: Carlsberg's UK CEO Julian Momen is hanging up his hat.
And not a Momen too soon you might think. But though the figures do not show it just yet (Carlsberg's core lagers were down a combined 4.4%, a £5m loss, in the off trade, as of The Grocer's Top Products report this month) he's actually done a superb job with an absurdly tough brief.
Momen, who joined Carlsberg UK as CFO in 2012 before netting the top job in 2016, inherited a poisoned chalice: its main brands were huge but trapped in long-term decline, unable to compete against the rising tide of craft and premium beers and considered an expendable commodity by the major multiples, notably Tesco as part of its autumn 2015 crackdown on underperforming brands. Truly grim stuff.
Yet the Carlsberg UK that heads into 2019 is a very different beast.
Perhaps Momen's greatest success has been in moving Carlsberg's focus away from those core lagers, turning its attention to creating a wider portfolio of brands that, crucially, could compete where Carlsberg 'Green' (or Pilsner as Carlsberg calls it) and Export could not.
In winning sole distribution and sales rights to cult US brewery Brooklyn, it gave itself a firm, already-established foothold in the booming craft scene – and in Brooklyn, a brand with genuine credibility.
The acquisition of London Fields, a joint venture with Brooklyn, was another masterstroke. Prior to the deal, London Fields was – and there's no nice way of putting this – a bit of a shambles. Despite having once been named 'Britain's Coolest Beer Brand', it had fallen into disorganisation, its brand was getting nowhere and the beer wasn't even being brewed on site in Hackney.
It was put up for sale for an alleged £1m – small change for Carlsberg. Now it's got a solid new core range which is stocked in Morrisons and serious prospects for further growth thanks to Carlsberg's nationwide distribution network.
That's not to say the lagers have been ignored. The snazzy revitalisation of Export and its genius ad campaign with Danish actor Mads Mikkelsen have turned a tired loss-leader into a beer that, at least aesthetically, is in line with the times.
Then there's the ditching of Carlsberg's sponsorship of the England team (which was subsequently taken on by AB InBev) to focus its sponsorships on live music (face it, gigs will always be cooler than sports), which likely freed up considerable resources that are better used elsewhere.
And it's important to remember that both Carlsberg 'Green' and Export did at one point return to growth this year. A massive overhaul of the pilsner planned for 2019 could help return the lagers more firmly to the black.
There will certainly be further challenges to come, not just for Carlsberg but its contemporaries also. Brewing industry sources have warned of a "huge escalation" in the cost base coming next year thanks to lacklustre barley production. Mainstream lager brands are not in pole position to pass on any increases right now. And of course there's the other big 'B' word to consider.
But all things considered this is as close to future-proofed as Carlsberg has looked for a long time. For which Momen should be commended.