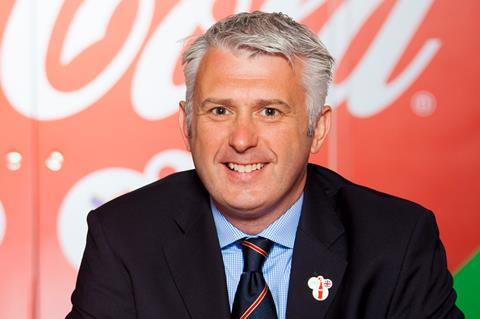 Coca-Cola GB general manager Jon Woods is to replace Gavin Darby as FDF president.

Darby has held the role for the past three years and Woods has agreed to a two-year term.

Woods, who worked for Cadbury and AB InBev before joining Coca Cola, was a leading industry opponent of the sugar tax. His appointment comes amid growing calls from health campaigners for the tax to be expanded from soft drinks to other categories, such as milk-based drinks and confectionery.

The FDF will be hoping he can help persuade the new government against increasing the levy.

Woods' experience in the debate over plastic was also seen as an important string to his bow, with the industry having faced a wave of public anger over the past two years and the government drawing up plans including a tax on single-use plastics.

In September, Woods announced Coke would end the use of plastic shrink-wrap across all multipacks of cans sold in Great Britain and replace them with cardboard, meaning more than 30 million packs sold to consumers each year would no longer be wrapped in plastic.
"I am delighted and honoured to be taking on the role of FDF president," said Woods.
"The UK food and drink industry is one of the best in the world and plays an important part in giving consumers the food and drinks they want, as well as making a significant contribution to the UK economy. As the industry continues to face uncertainty with regards to Brexit and responds to changes in consumer tastes and trends, it is more important than ever that the industry is united under the FDF. I am looking forward to working closely with all members and partners to promote the industry and respond to the opportunities and challenges we face."