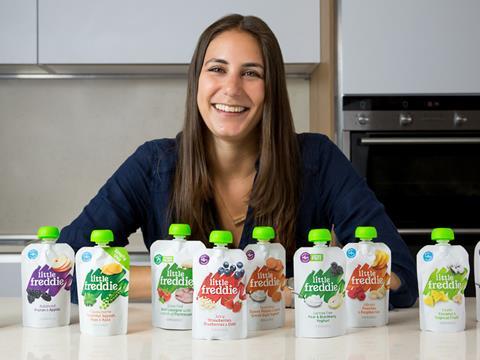 Baby and toddler food brand Little Freddie has hired Jess Ainley its first environmental and sustainability manager.
Ainley has been appointed to help the business build a sustainability strategy focused on developing recyclable packaging solutions, and ensuring its handpicked ingredients are as good for the planet as they are for babies.

She joined the organic brand last month from Sainsbury's, where she was the supermarket's sustainable and ethical sourcing coordinator for just over two years. During her time at Sainsbury's, Ainley was responsible for driving sustainable and ethical sourcing practices for over 12,000 of its own-brand products.

She has a strong background in sustainability management, as she also spent 18 months as an analyst for sustainability consultancy Sancroft, and was a researcher for the Environmental Justice Foundation in 2012.

Ainley's appointment with Little Freddie comes just two months after it launched with Ocado. The brand is planning further rollouts to other supermarkets later in the year.
"Little Freddie is an incredibly exciting business to be part of. My mission is to ensure we can build trust by talking honestly with parents about the origin of our food and our impact on the environment," said Ainley. "We want to reassure parents that our food is not just the best quality and best tasting baby food on the market, but best for the planet too."

Rachel Kelley, managing director of Little Freddie, added: "It's important to us that our exceptional ingredients have been sourced with the best intentions, both for families and for the environment. Jess joining the team is a demonstration of how seriously we are taking our sustainability and environmental commitments.

"From ensuring we don't use any pesticides in our food, right up to monitoring the ecological and environmental impacts of our farming practices, we are looking forward to making big waves in the baby category with our sustainability promises."
This article was amended on 18 June to clarify that Little Freddie launched with Ocado, rather than both Ocado and Waitrose.