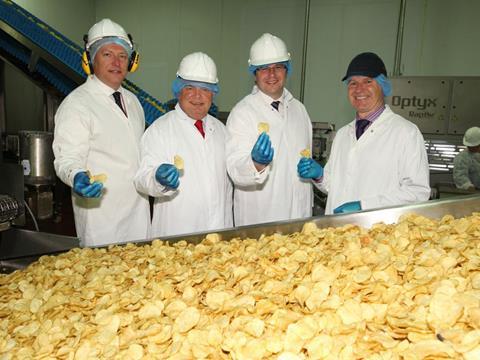 The long serving CEO of Northern Ireland-based snacks business Tayto Group has left his post after 17 years at the helm.
Tayto confirmed this morning that CEO Paul Allen has left the company to concentrate on his other business interests.
Allen recently led a rescue of Norther Irish cake and breads supplier Genesis Crafty bakery, saving 300 jobs. He said at the time he would continue to lead Tayto while serving as executive chairman of Genesis, but has decided to focus on "new challenges".
Allen said: "I have always been extremely proud to be part of the iconic brand that is Tayto and have considered it a privilege to contribute in some small way to its growth over the years, it will always hold a special place in my heart.
"I'm now looking forward to taking on new challenges. My business interest has always been in working to develop and expand companies, to build security into them and to make them into long-term assets and I look forward to doing more of that in the future, both in Northern Ireland and further afield."
He joined Tayto in 2002 and has led the group through a number of acquisitions, including Golden Wonder, Red Mill Snacks, Mr Porky's Pork Scratchings, the Real Pork crackling Company, Portlebay Popcorn and Real Crisps.
Just this week Tayto announced the acquisition of Yorkshire start-up Bite UK, which makes a free-from range of Pure Bite low-calorie rice and nut clusters, for an undisclosed sum.
Speaking on behalf of the Hutchinson family, who own Tayto, Stephen Hutchinson commented: "We are sorry to see Paul leave. In the time he has been with us he has led the company's growth and expansion and his dedication and commitment to the Tayto brand has been unparalleled. We understand and support Paul's decision to further his own career in other areas and he remains a firm friend of Tayto.
"He is a businessman of vision and entrepreneurial flair and we shall miss him greatly. However, we are also very fortunate to have a team of highly skilled individuals who will continue to run the company and it is very much business as usual. We wish Paul every success in his new ventures."
Tayto, together with vending solutions sister company Montagu Group, has built annual sales of around £250 million and has grown into the largest indigenously-owned crisp and snack manufacturer in the British Isles.