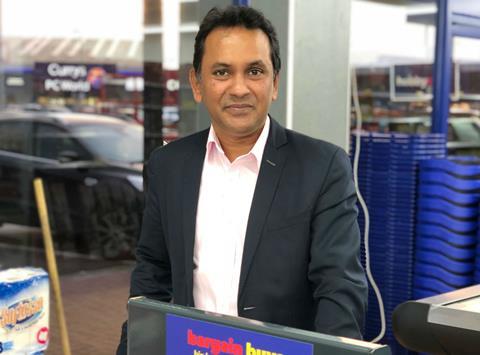 Poundstretcher has appointed a new group commercial director to head up the business as it aims to nearly double its store estate within two years.

Somnath Saha took the new position earlier this month, in effect taking over from Chris Edwards, who was Poundstretcher's CEO for about six months before departing in April this year.

Saha has spent the past decade at Typhoo Tea, most recently as CEO for four years and before that as finance director and head of HR.

Poundstretcher has been on a rapid expansion drive in recent weeks, opening some 40 stores to grow the estate to about 450. In September, the Crown Crest-owned retailer was aiming for 600 by 2020, a target that has now been raised to 800, according to Saha.

"There is a big growth plan," he said. "Every week we are opening three to four stores. The target is that by March next year it will be 480 to 500 and in the next two years 800."

Stores opened this week include Taunton, Middlesbrough and Banbury. Bristol and Coventry will be added next week as the business, owned by Aziz Tayub, pushes to have a branch in "every corner of the country," Saha said.
The multi-price discounter has adopted the 'Bargain Buys' banner for the 40 or so recently opened stores and plans to continue using it for expansion across the UK and then into Europe and south-east Asia, Saha told The Grocer.

He said the brand was being used to create "very modern stores" with plans for an increased range, including fmcg and own label.

The retailer is advertising for a food technologist to work at its Kirby Muxloe offices, with duties including quality assurance of 'bakery' - a new addition to the existing ambient ranges in stores.

"We will be improving ranges quite a lot," said Saha. "The discount sector is very weak in private label while the big four are very strong. I'm trying to drive it in all the categories including food and fmcg."

There would also be more focus on marketing, including digital and social media, he said.

The use of the 'Bargain Buys' banner is contentious, since it was also the name of a chain that collapsed along with its stricken owner Poundworld earlier this year.

At the start of November, Leeds businessman Manni Hussain bought both Poundworld and Bargain Buys brands from administrators Deloitte and told The Grocer of plans to relaunch both chains.

Both Poundworld and Poundstretcher are attempting to trademark the name. Poundworld's application for 'Bargain Buys' was filed as recently as 5 October, after the chain went into administration. Poundstretcher's application, for 'bargain buys big brands, big discounts,' is dated 9 November.

Saha said: "It's a generic name but ours is different, with a different design.

"It's the right branding to go global also."

Hussain did not respond to The Grocer's enquiries.