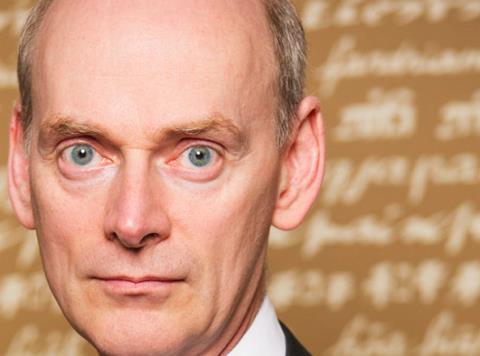 The BRC has revealed Richard Pennycook, the heavy hitter credited with helping turn around businesses including The Co-operative Group and Morrisons, is to become its next chairman.

Pennycook will take over the role from Whitbread chairman Richard Baker, who became BRC chairman in July last year, from 1 February. He predicted Brexit would cause a "very challenging period" for retailers.

Pennycook stepped down as CEO of the Co-operative Group in March, having joined in 2013.

Widely credited as he key force being the turnaround in its fortunes, Pennycook hit the headlines in April last year when he requested a 60% drop in salary after saying his job had got easier as the society had "turned a corner".
The ex-Co-op boss has over 25 years' experience in retail, including top jobs with Allders, JD Wetherspoon, Laura Ashley, Welcome Break and Morrisons, where as long-serving finance director he steered the Bradford-based grocer through the difficult Safeway integration.

Previously a non-executive director of Richer Sounds, Pennycook is non-executive chairman of online retailer The Hut Group, Howdens Joinery and Fenwick department stores.

The BRC said he would work with the BRC chief executive Helen Dickinson and board members to champion the retail industry and enhance its prospects for growth, with his appointment coming in the thick of huge upheaval for the industry.

"We are in the midst of a very challenging period for the future of the retail industry, with a huge amount at stake in terms of the reputation of business, future employment, the vitality of our town centres and the overall health of the industry in the face of multiple structural, economic and public policy challenges," said Pennycook.

"With that in mind I am very much looking forward to supporting and building upon the BRC's pioneering work. Having a strong, coherent voice for Britain's retailers is vital if we are to ensure the industry plays its full part in building the skills, opportunities and prosperity of the nation."

Dickinson added: "The appointment of Richard, a huge figure within the industry, as chairman will offer continuity and help oversee the implementation of the organisation's future plans at a crucial point for the industry. We are witnessing an unprecedented pace of economic and political change and it is the BRC's role to help inform and shape the emerging public policy debate.

"I would like to pay enormous tribute to Richard Baker for his contribution as chairman over the past 18 months during a period of profound change both for our politics and for the BRC, and for his continued support for BRC."

Outgoing chairman Baker said: "It has been an honour and a privilege to have served as chairman and I wish Richard every success. The BRC does a crucial job in representing the industry to policymakers in Westminster and across the UK, and I have every confidence that Richard will seek to further strengthen the work and influence of the organisation and the industry."