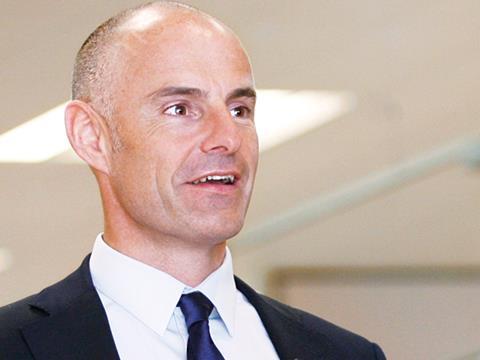 Roger Burnley is to takeover as president and CEO of Asda from January.
Burnley has been chief operating officer and deputy CEO since October 2016 and will replace Sean Clarke who is set to take some time out after which he will continue in a new role with Asda's parent-company Walmart.
CEO of Walmart International Dave Cheesewright said Burnley would take on the top role from 1 January 2018.
At the time of Clarke taking over from namesake Andy as Asda boss, Cheesewright described him as "one of our most experienced global executives", although Asda stressed today he had also seen Burnley as "a future CEO".
Cheesewright said today: "Roger was purposefully brought back to Asda to partner with Sean ahead of the transition to Roger taking up the position of CEO. He and Sean have worked as a great team and I'm really confident in Roger's ability to continue building upon our returning momentum.
"After more than 21 years with the company, Sean has worked across five international markets including serving as president and CEO of Walmart China, and obviously here in the UK too.
"He's continually shown the ability to lead critical transformation and the last 15 months are no exception. Sean will continue to lead Asda until the end of December, after which he's taking some time out and will then remain engaged with Walmart."
Burnley said: "Asda is a great business and we've started to realise its potential again. Sean's focus on serving customers and simplifying the business has established a firm foundation on which we can build. Since I returned to Asda last year, I have been encouraged by the passion and professionalism of our colleagues and look forward to leading this terrific team."
Clarke added: "Asda is moving in the right direction but there is still much more for us to do. I am excited to see the momentum continue under Roger's leadership. Walmart has given me and my family some great opportunities. I am looking forward to taking some time out but I will always stay connected to the company."
Walmart said Clarke would "work closely" with Burnley in the run up to the handover as it tried to deliver its "best ever Christmas".
It is Burnley's second stint at Asda, having first served under Archie Norman and Allan Leighton during the 1990s before joining Matalan and going on to become supply chain director at Sainsbury's in 2006.
In August Asda returned to sales growth for the first time since 2014, with this year's second quarter sales excluding fuel up 1.8%.
Although the period includes Easter trading, the first positive quarterly sales figures in three years were hailed as a milestone by the struggling supermarket giant.
However, the retailer has struggled to match the performance of its supermarket rivals despite a programme of price cuts and moves to improve service and availability.
Clarke has kept a low profile as boss, shunning the media spotlight wherever possible, and has been criticised by some analysts for not being vocal enough about strategy.
Under his leadership Asda decided against launching a major onslaught against the discounters on price, instead concentrating on steady improvements in the basics of its core offer.