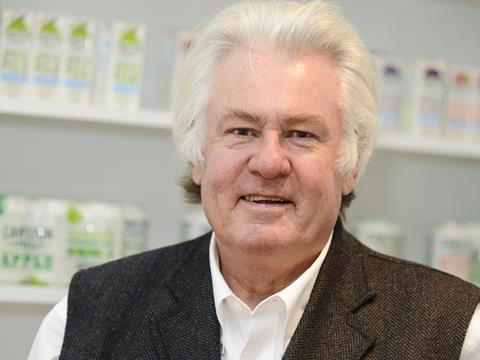 Simon Dunn, who was instrumental in the success of many household brands during a long and distinguished career, passed away this week, aged 63, from mesothelioma.

Dunn co-founded soft drinks company Cawston Vale in 1986 with Stephen Unwin, which rebranded as Cawston Press in 2009, where he continued as non-executive director until his death.

He ran PCHL for the past 21 years, a business that was the culmination of a 40-year career in grocery and which saw him help small business owners develop their ideas into products and get them on shelves.

Dunn was an adept facilitator for other people's businesses and described himself as someone who provided "arm's length signposting" for entrepreneurs.

The hand of Dunn can be seen in the success of household name brands including Dentyl mouthwash and Jordans, which, unknown in 1974, became the largest independent breakfast cereal supplier in Europe. Another, Copella, became Britain's dominant apple juice brand.

Dunn, in his own words, loved getting brands off the ground, "using skill and judgment to circumnavigate the obstacles that mar success". He wrote on his website: "It could be argued one should simply make an appointment to see a buyer and tally ho, with product in hand à la Dragons' Den, Mary Portas, Willy Wonka etc, get it listed and the millions roll in. If it were so easy then everyone would do it."

He wrote many articles for The Grocer and leaves behind ongoing projects such as Two Chicks, Atlantic Kitchen and Manuka honey for the medical market.

Peter Whitehead, a former buyer for Tesco, who knew Dunn when he represented Jordans, described him as "one of the most dynamic and innovative suppliers" he had had dealings with.