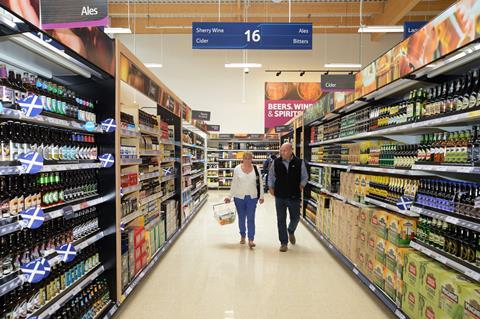 Tesco has shuffled its drinks buying team after its wine buyer stepped up to lead the retailer's grocery department, The Grocer has learned.

John Wootton has been appointed as category buying manager in grocery, after three years leading the wine team.

Peter Bexton, who has been responsible for the Tesco beer and cider business for the past five years, took over Wootton's role this week.

The supermarket has also appointed Marianne Aitken as category buying manager for beer and cider to replace Bexton, working under BWS category director for beer, wine and spirits (BSW) Jason Godley.

Aitken was previously category buying manager for classic grocery - canned and cereal, a role she has held since May 2017. She has been a buying manager with Tesco since 2014, joining from pig processor Tulip, where she was commercial manager for more than over three years. She recently played an important part in the drive to reduce plastic packaging on canned food.

Sarah Sturgeon will continue to lead the Tesco spirits team.

Jason Godley said in an email to suppliers that Wootton had been instrumental to the success of Tesco's own-brand wine offer in recent years.

"I would like to thank John for all his help and support over this time, particularly in supporting me over the last six months in shaping our strategic direction in wine for the next three years," Godley wrote.

"We wish John all the best as we look forward to his significant contribution in another important part of our core business."

Wootton has been with Tesco since 2001 in a variety of buying and manager roles, acting as head of buying for One Stop from 2015 to 2017.

Godley added he was pleased the BWS category could continue to call on Bexton's "significant experience and passion" for the drinks business.

"I would also like to thank Pete for his significant contribution to the beer team and broader industry for the last ten years," he said. "I am sure he will be remembered for developing a leading position in craft beer category for Tesco and more recently, leading the agenda on plastic and packaging within the industry."

Bexton has been a buyer at Tesco for more than 12 years after joining the retailer from the graduate scheme at Majestic Wine.

Bexton added in a separate note to suppliers: "I have worked with many of you for over ten years and whilst there have inevitably been some challenges, I would like to think that overall we have worked collaboratively to improve the category.

"I would like to thank you for all your help and support whilst I have been in the category. It is an industry I love and whilst I'm sad to leave my current role and some great relationships, I am excited about the challenges that lie ahead in wine."

The changes came into effect on Monday (10 February 2020), but Wootton and Bexton will support the handover process in the coming weeks.