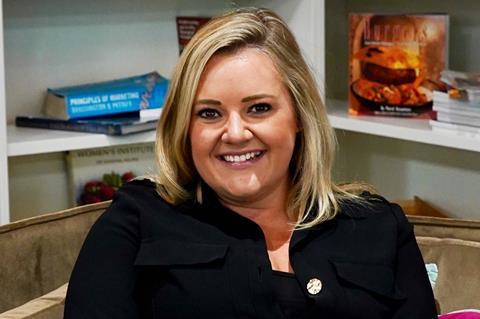 What was your first job? Working in a designer clothes shop in Bolton town centre.
What was the first music single you bought? I'm tempted to lie and say something cool. But the truth is, it was Boyzone, 'Love Me for a Reason' on cassette.
How do you describe your job to your mates? My mates actually call me the queen of brioche. Or the bread lady.
What is the most rewarding part of your job? You might have guessed, but I love to talk to people.
What is the least rewarding part? I'm not really one for negativity. Maybe I'd like to spend less time driving…
What is your motto in life? One is 'you might only get one chance, so go for it' and another: 'what's the worst that could happen?'
If you were allowed one dream perk, what would it be? Probably a helicopter so I didn't have to do so much driving!
Do you have any phobias? Blue mould. It's the stuff of nightmares. Some people are into blue cheese; I am not one of those people.
If you could change one thing in grocery, what would it be? I think there needs to be more women in the industry. I'd also change attitudes towards wholesale – it's so much fun to work in!
What animal reflects your personality? A meerkat. I'm very inquisitive. Nothing gets past me in the office.
What's your favourite film and why? The Holiday. It's easy to watch and, no offence to Cameron Diaz and co, but I quite like falling asleep to it.
What has been the most embarrassing moment in your life? I was visiting cash & carries to run sampling activity. St Pierre is an amazing brioche, but I managed to burn it. I mean, properly set it on fire. We had to evacuate the cash & carry. Customers, staff, the whole thing. I was mortified.
Which celebrity would you most like to work with? I'm Craig David's oldest fan – literally. I'd love to rework 7 Days into a song about St Pierre products and use him as a sales tool. That would get the attention of the buyers.
What would your death row meal be? Roast beef, Yorkshire pudding, horse radish, loads of gravy and all the trimmings. I'm a Bolton girl – we are serious about gravy.