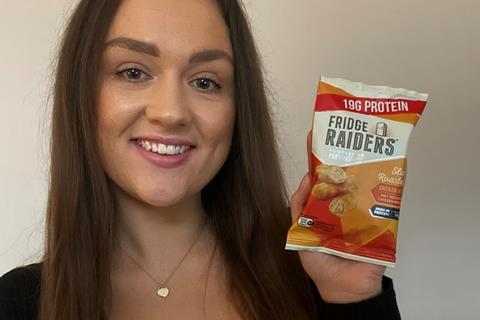 Name: Beth George
Age: 25
Job title: Brand manager – Fridge Raiders
Company & location: Kerry Foods, Egham
Education: Bournemouth University, BA (Hons) Business Management with Project & Operations
Why did you decide to go for a career in food? Having completed a placement year in the electronics industry, a career in food wasn't the path I initially thought I'd take. I ended up applying to Kerry Foods based on a recommendation by a former colleague who had moved to Kerry Foods. When researching further, the Kerry graduate scheme was particularly appealing as I was able to experience rotations across different functions over a two-year period. I was also part of a graduate community and we travelled around the country every few months, visiting the different manufacturing sites and completing graduate modules. One thing I've learned and love about the food industry – and the reason I intend to stay – is that it never stands still, it's a competitive and ever-changing market where the consumer is at the heart of all we do.
More recently I've realised how grateful I am to be working in an industry that will always be in demand and provides an endless wealth of opportunity to learn and develop. I have felt a huge sense of pride and purpose during these tough Covid months as we have pulled together as a business and industry to focus on feeding the nation.
Explain your job to us in a sentence (or two): My job within the marketing function at Kerry Foods is focused on driving growth of the Fridge Raiders brand. This includes developing products and using consumer insight to ensure we have a competitive advantage, as well as investing in and creating media and communication strategies to attract and keep consumers buying into the brand.
What does a typical day look like for you? No two days are ever the same for me which always keeps things interesting! I work with agencies to brief and generate inspiring comms campaigns as well as clever packaging solutions and designs. A lot of my job also involves working cross-functionally with innovation and site teams, using consumer insight to develop and deliver an exciting innovation pipeline. There are also elements of analysis, looking at data and sales information to evaluate performance of Fridge Raiders products across the market.
"I have felt a huge sense of pride and purpose during these tough Covid months as we have pulled together as a business and industry"
Tell us about how you went about applying for your job. I applied through the Kerry Foods career portal by uploading my CV and answering a few questions. Several rounds of assessment then followed including online tests before being invited to a virtual interview. After passing each round, I was then invited to a two-day assessment centre. Here I completed a role play task and a group task, both of which were based on real scenarios. A one-on-one interview then followed. We were also able to attend a dinner with the current graduates to find out more about their roles and what a career at Kerry could look like.
Although it was a long couple of days, I really enjoyed the process as I was able to talk to Kerry employees from managing director through to executive and graduate level, hearing all about their roles and experiences which enabled me to get a real feel for the company and its culture. I knew upon leaving that day, I would 100% accept a role at Kerry should I be offered one – luckily, I was the next day!
What's the best part about working for a food company? How fast-paced the industry is. We need to continually stay close to our consumers through research and insights to ensure we're offering exciting, new products to meet their needs and preferences. With so much competition on shelf nowadays, innovating at pace is the favourite part of my day. It's also great to be able to have ownership of innovation projects from consumer concept screening to site feasibility, creating the packaging, trialling the products, creating compelling launch and activation plans and finally seeing it on shelf!
I don't think anything beats the feeling of being out in the supermarket and seeing consumers' trolleys and baskets full of products you've helped to develop. The recent launch of Fridge Raiders Veggie Bites exemplifies this – a brand new product and category for us to venture into as a brand, but one we're confident will be a success!
And what's the biggest misconception people have about working in food & drink? Aside from the fact that people think we get lots of free food and that we're always sampling new products (which is true to some extent and is a huge perk when those times arise), a misconception would be that consumers tell us what they want and we quickly bring it to market. Part of our role is to pre-empt consumers' changing tastes and preferences, bringing exciting product launches to market before they even realise they need the product in their lives!
What advice would you give to other young people looking to get into the food & drink industry? Don't be afraid to reach out to people on LinkedIn directly. If there is a company you want to work for, or a particular role, search for people who are currently in these roles. Message them, show interest, ask questions. Even if there aren't currently any roles available, you're showing your passion and enthusiasm and you never know what opportunities may arise later down the track.
What's your ultimate career dream? My ultimate career dream is to be in a role that always challenges me and to continue to work for organisations that can offer me new and exciting opportunities. I want to gain a breadth of experience, working on products in different categories and with different target audiences to ultimately reach a leadership position within marketing.