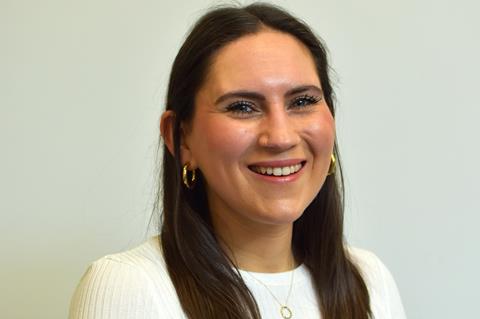 Name: Charlotte Seddon
Age: 29
Job title: Operations co-ordinator
Company & location: Bio&Me, Chester
Education: University of Edinburgh, Theology
Why did you decide to go for a career in food? I've always loved food but honestly it wasn't something I really considered, I sort of fell into it! My first job after graduating was working as a chalet host in a French ski resort, involving cooking breakfast, cakes and a three-course dinner every day, which I loved. This opened my eyes to the idea that working in food could be an option. A few years later, an opportunity came up in my hometown to work for Bio&Me, an exciting start-up in the food industry. I was looking for a new challenge and so I went for it.
Explain your job to us in a sentence (or two): I'm part of a small team that looks after the whole supply chain; from sourcing ingredients to final delivery of our amazing products on shelf. In a nutshell, this involves planning, organising and executing the manufacture and delivery of our ambient and chilled products to a growing network of retailers and wholesalers. Basically, we get to play with the whole train set!
What does a typical day look like for you? Bio&Me is a successful start-up that's rapidly growing. This means my job is very varied from day to day. Typically, I start by processing and tracking orders and liaising with our logistics providers about any issues. Operations involves a lot of planning ahead, so updating forecasting documents and scheduling production is a key part of the role, which can be tricky as demand is hard to predict. I also spend a lot of time ensuring we are on track and ready for the next production run, so essentially managing inventory and liaising with ingredient and packaging suppliers to ensure we have enough stock. One particular focus of mine is packaging, and I, rather sadly, enjoy meticulously checking artwork for errors to ensure it's right before it goes to print!
"There's a satisfaction in knowing you're making legitimately healthy products that taste good too"
Tell us how you went about applying for your job. I had two interviews for my role. The first interview was an informal chat with the CEO and COO. The second was a bit more intense and involved completing a planning exercise and a more structured interview question phase. The planning exercise was pretty tricky as it was something I'd never done before, and I was given minimal instructions, so I struggled through and kept asking for more time to work on it! Luckily, my determination to complete the exercise demonstrated my abilities and I ended up being offered the job.
What's the best part about working for a food company? A bit of a cliché, but getting to do taste tests for new products and getting lots of free food are pretty good perks! More specifically, I really love that we create products that are genuinely good for people's gut health (Bio&Me products carry the EFSA-approved 'Good for Your Gut' health claim). There's a satisfaction in knowing you're making legitimately healthy products that taste good too.
And what's the biggest misconception people have about working in food & drink? For me, it's not being aware of the complexity of the supply chain and how much work goes into getting a product on shelf. It's easy to go into a supermarket and not realise quite how much actually goes on behind the scenes to ensure this happens. Our artisan co-manufacturers, whether our granola bakery or yoghurt dairy, are experts in their fields, but they all need to be co-ordinated and monitored to ensure everything ends up in the right place at the right time – the logistics behind this can be pretty challenging.
What advice would you give to other young people looking to get into the food & drink industry? I can't speak for larger food and drink companies, but I would highly recommend working in a small, growing company: it's a fast-paced and exciting environment to learn in. I'd suggest being open to opportunities and just going for it, even if you feel a particular job isn't for you. You can always change jobs within a company if you're better suited to something else.
What's your ultimate career dream? Tricky question. Ironically, for someone whose job involves planning and looking forward, I don't really have much of a personal plan! I'd like to keep learning and developing and see where it takes me. It would be great to combine my job with my love of travel, and maybe set up my own food or drink company one day (I just need a good idea)!