Name: Emily Morgan
Age: 24
Job title: Product & customer experience manager
Company & location: CafePod
Education: University of Manchester – Management, Leadership and Leisure
Why did you decide to go for a career in food? I graduated in 2021 in a post-Covid environment where the world of work had significantly changed. It looked like the food and drink industry was going to change and develop in new and exciting ways, more than ever.
It's a great category to learn about how brands succeed and constantly innovate with no two days being the same!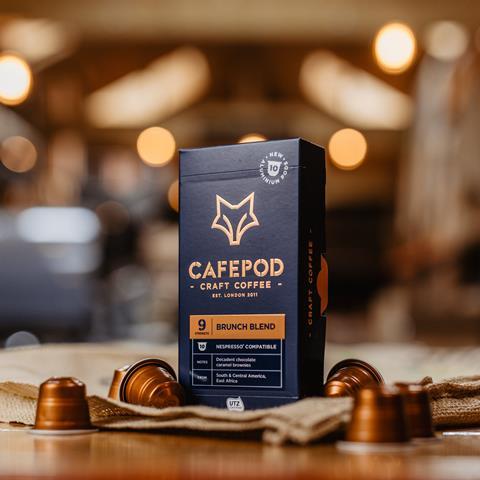 Explain your job to us in a sentence (or two): I manage the end-to-end development of all NPD and EPD, whether it's coffee or any other product. I also manage our customer support team to ensure our service standards are met.
What does a typical day look like for you? A typical day mostly involves me gathering any project updates and reporting progress back to suppliers and our team. I try to focus on keeping our tight project timelines on track.
Tell us about how you went about applying for your job: I did some work experience with CafePod in my first year of university and thoroughly enjoyed myself. I saw they had a role going when I graduated and jumped at the opportunity. The interviews mainly covered my motivations and they probed pretty deep on my influencing style.
What's the best part about working for a food /drink company? More people than ever are drinking coffee at home and therefore CafePod have a huge opportunity. The best part about working for CafePod is that we are constantly developing our amazing product portfolio. Customers always look forward to seeing what new and exciting products we can bring to the table.
CafePod is a big part of our customers' daily lives and it's great to hear how much their morning cup of CafePod coffee means to them. Food and drink brands are always a good topic of conversation. Everybody has a view on their favourite coffee!
"It would be amazing to run my own brand one day where I can develop a product that consumers can't live without!"
And what's the biggest misconception people have about working in food & drink? People tend to think most food/drink brands are run by multinationals, but there are so many great new and established brands owned by SMEs and startups. Yes, it is a competitive environment but that's what makes it exciting!
What advice would you give to other young people looking to get into the food & drink industry? Do it. Try and get involved in as many things as you can and don't forget to ask questions. It's important to know what you don't like doing as much as what you do like!
What's your ultimate career dream? I'm still figuring that out, to be honest. I'm definitely enjoying working on the project/product development side of things. I also love interacting with people face to face. It would be amazing to run my own brand one day where I can develop a product that consumers can't live without!