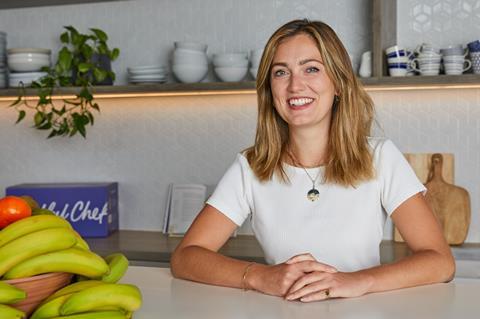 Name: Emma Detain
Age: 27
Job title: Sustainability manager
Company & location: Mindful Chef, London
Education: Geography, King's College London
Why did you decide to go for a career in food & drink? I studied geography at university and became fascinated by the link between climate change and food. These two things are so deeply connected, but we seem to be so disconnected from the impact the daily choices we make have on the world around us. So when I left uni I knew I wanted to work in 'sustainability' in the food & drink industry, but at the time all that meant to me was working for a company that was trying to do something good. Roles like my current one didn't really exist then.
Explain your job to us in a sentence (or two): I lead on all things relating to environmental and social impact at Mindful Chef. We have set ourselves the goal of becoming a regenerative business, which means making sure that we're not just minimising our impact, but actually using our business to have a positive impact on people and the planet. My job is to engage with stakeholders and find ways to help us reach this goal.
I also take care of our proud B Corp certification (we're in the top 3% of global B Corp food companies), work closely with charity partners on initiatives like our One Feeds Two programme, collaborate with commercial teams to innovate and reduce our use of packaging, and oversee our Net Zero 2030 strategy.
"Mindful Chef encouraged and supported me to explore something I had an interest in"
What does a typical day look like for you? In a role like mine you get to wear lots of different hats, so every day is different. I can go from collecting and analysing data for our carbon footprint, to organising a charity event, delivering a stakeholder engagement workshop or to being out on the farm with one of our suppliers. I also represent the company externally, speaking at events or on panels. Sharing information and collaborating with others is massively important in the sustainability space, as ultimately we're all working towards the same goal.
Tell us about how you went about applying for your job: In some ways my journey into my current role was a unique one. I joined the finance team at Mindful Chef in 2019. I applied for the finance role because it was a relatively junior position and I had some experience from previous internship roles but I think what got me the job was my genuine belief in what they were doing as a business; from being early adopters of the B Corp certification to sourcing ingredients with care for the environment. We also seemed to share a similar set of values around being 'Mindful, Personal and Unafraid' and that's what mattered to them.
Around a year into that role, I was asked to work on our first carbon footprint assessment as they knew this was something I was interested in – there's also a surprising amount of data and number crunching in sustainability so my time in finance set me up well!. And that was the beginning of what my role is now. Knowing your company's impact is only the first part, what you do with that information is the second and undoubtedly the most important.
I feel incredibly lucky that this opportunity opened up for me in the way that it did and that Mindful Chef encouraged and supported me to explore something I had an interest in.
What's the best part about working for a food & drink company? The food & drink industry has a massive environmental impact (25% of all greenhouse gas emissions come from food production). So for me, the best part about working for a food & drink company is that you have a chance to deliver real, tangible positive change. At Mindful Chef, we're doing things across our whole value chain from our suppliers to our customers to address our own impact, and looking for ways to inspire change in the industry.
And what's the biggest misconception people have about working in food & drink? That food miles are bad and local food is good. It's not always as simple as that. For instance, a tomato grown in a greenhouse in the winter in the UK will have a considerably higher carbon footprint than if it was grown in Spain and shipped over. This is due to all the energy that needs to go into the greenhouse to replicate the growing conditions of a warmer climate.
What advice would you give to other young people looking to get into the food & drink industry? Be prepared to try any role! I applied for the finance position because I really wanted to work for a food company, particularly a startup. Startups like Mindful Chef are great because often they will encourage you to get involved in lots of different areas of the business regardless of your 'title'. I massively enjoyed the role and looking back, I can see it prepared me in so many ways for what I do now.
What's your ultimate career dream? I truly believe businesses can be a force for good and I'm most passionate about using and leveraging the role companies can play in tackling the issues we face as a society, particularly climate change. This is what drives and inspires me each day.