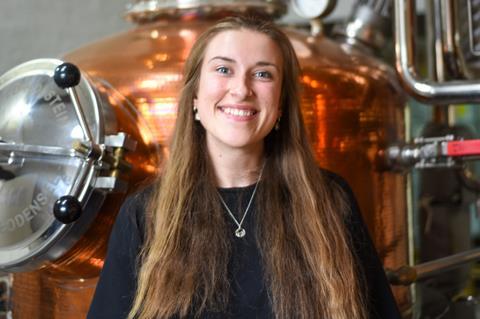 Name: Emma Tinsley
Age: 24
Job title: Gin Academy manager
Company & location: Burleighs Gin, Leicestershire
Education: BA in English Literature, University of Reading
Why did you decide to go for a career in food & drink? I didn't make an active choice to find a career in this industry. In fact, after I graduated, I was looking for jobs related to my degree in English (something in marketing/advertising/publishing). After a series of uninspiring interviews, I decided to change things up. Why not go for something I knew I enjoyed? I had worked as a bartender throughout university and absolutely loved it, so found a part-time job pulling pints at a local pub. A few months later I saw Burleighs advertising for a sales role. I took a chance (having never worked in sales) and applied.
Explain your job to us in a sentence (or two): My role at Burleighs is really varied but is centred around planning events and managing/hosting our Gin Academy.
What does a typical day look like for you? As clichéd as it sounds, there really isn't a 'typical' day at Burleighs! One day might be focused on catching up on admin, another could be hosting a tasting event at a local pub, the next I'll be preparing for a weekend full of Gin Academies. Each day is different and that's why I love my job so much.
Tell us about how you went about applying for your job. I applied for the role of sales executive and was lucky enough to be invited for an interview. The initial interview went well, and I was then invited to a second one where I had to prepare a presentation about the brand. This was slightly more daunting – I had never worked in sales or delivered any kind of 'pitch', so I felt like a fish out of water. Luckily, the team were (and still are) super friendly and supportive (even when I stumbled through questions about incentives and profits)! It turned out that I didn't get the job, but I was asked to consider a role in events instead. To me, it was a no-brainer, and nearly two years later I'm still here and proud to work for such a great company.
"Every single person I've worked with has been passionate and excited about what they do"
What's the best part about working for a food/drink company? There are so many great things about working in a gin distillery. Being surrounded by gin all day every day is certainly one of them! I think the best thing about this job, and especially in my role as Gin Academy manager, is knowing that you've created an amazing customer experience and been part of someone's much-anticipated day out – I think that goes for a lot of other jobs in the industry, too. Seeing people leave the distillery with big smiles on their faces and a bottle of their own gin is something I don't think I will ever get bored of! It's the most rewarding job I've had.
And what's the biggest misconception people have about working in food & drink? I think one of the biggest misconceptions is that working in food and drink means you're either a chef, a bartender, or both. I think people tend to look at jobs in food and drink and assume that it's a very one-dimensional industry to work in. But it's the opposite. I can only speak for the drinks industry, but there are so many jobs and opportunities I would have never known existed if I hadn't started working at Burleighs. So many different directions you can go in. Every single person I've worked with over the last two years has been passionate and excited about what they do. It's like we've all got one common goal between us and that is to make sure people enjoy what we enjoy doing.
What advice would you give to other young people looking to get into the food & drink industry? If I could go back and give my freshly graduated self a pep talk, I would. I'd say go for something you enjoy doing, not something you think you're meant to be doing, because it won't work out. Take all the experience you can get, work hard, pull some pints and you'll figure out where you want to be. And then when you get there, have an open mind, and say yes to all the great opportunities that will come your way.
What's your ultimate career dream? I would love to learn to distil gin on a bigger scale – I work with mini-stills every weekend so it feels like a natural progression! In terms of the 'ultimate career dream', it's hard to say. There are so many things to explore in this industry, I would never want to limit myself to one set path or goal. For me, it's important that I'm happy and enjoying whatever it is that I'm doing, so I suppose that's my ultimate career dream.