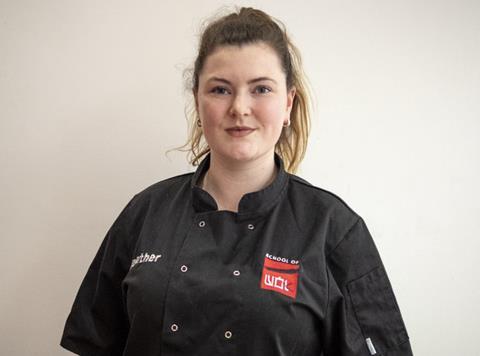 Name: Heather Byres
Age: 25
Job Title: Chef tutor
Company: School of Wok, Covent Garden, London
Education: Ballymaloe Cookery School
Why did you decide to go for a career in food? It was the only thing that ever made sense to me. I didn't understand sentence structure, or maths or chemistry, but I knew how to make food taste good!
Explain your job to us in a sentence (or two): I am a cookery school tutor and assistant manager in an Asian school that aims to bring fun and confidence to the kitchen.
What does a typical day look like for you? A typical day will start with doing some basic prep for the class. Most of the work is done by the students, but I set up everything they need into groups and sections. It is important to be prepared! Once the students start to arrive is when the real work begins. Conducting them through the class, making sure they enjoy themselves but also that keep working so they have something to eat the end of it.
"I'd had enough of sending my CV out into the web and hearing nothing back, so decided that a bit of field work would be a good idea"
Tell us about how you went about applying for your job. I found my job by going around food festivals with my CV and talking to people. I'd had enough of sending my CV out into the web and hearing nothing back, so decided that a bit of field work would be a good idea. It was great – I got a lot of first and second interviews that way.
I ended up working in the marketing team as an intern for six months before I got a full-time job at School of Wok. During the internship in the office, I was doing extra shifts as an assistant in the school. From there, a position on the operations team became available and I was able to apply.
I was lucky that they already knew me, so all I was having to show them was that I could cook. I was given a 30-minute slot to fill with a cookery demonstration/class of my choice.
What's the best part about working for a food company? The food! Well, the food is definitely a daily bonus but I tried a few different hospitality roles before settling on one. What I like most about teaching is giving 'can't cook, won't cook' people an opportunity to see that they can make delicious food.
And what's the biggest misconception people have about working in food & drink? A lot of people ask me if it's an aggressive environment. I have been in kitchens where it is really hostile, and the staff turnover is massive. A happy head chef makes for a happy kitchen – there is no place for the swearing and blame that is portrayed on television.
What advice would you give to other young people looking to get into the food & drink industry? Persevere and try everything. Don't feel put down by other people going to university and higher education if you haven't. The most relevant thing in hospitality is experience, and you don't get that in a lecture hall! Say yes to everything in a kitchen, but it's also OK to ask why.
What's your ultimate career dream? I would love to run my own vegetarian cookery school some day.