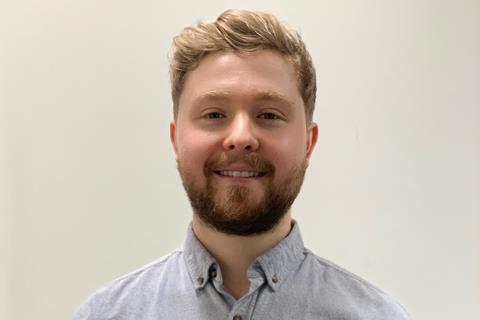 Name: Louis O'Rourke
Age: 25
Job title: Team & office manager
Company & location: Biotiful Dairy – Kensington, London
Education: University of Reading, Philosophy & International Relations
Why did you decide to go for a career in food? During my studies I worked as a team leader for the university bars and catering services, which sparked my interest in craft food and drinks and the innovation process. After leaving university I worked for a drinks startup where the fast pace, innovative mindset and ambition was something I really enjoyed. This is something we have in bucketloads at Biotiful. Seeing first-hand the impact a small business can have on the food choices people make has been really inspiring. It takes a lot of vision and diligence to disrupt an industry, but a few small brands are doing it and Biotiful is definitely one of them.
Explain your job to us in a sentence (or two): I'm here to make sure the team can be as productive and dynamic as possible. I'm constantly trying to see how the office environment can be made better to support a really effective team. I try to be someone the team can rely on to 'fill in the blanks', solve problems and keep the business moving forward.
What does a typical day look like for you? There are two main parts to my role – so the day usually revolves around one or both of these. The first is supporting our innovation team, helping create brilliant samples of our NPD to share with customers and for research purposes, as well as constantly monitoring our quality to ensure we only ever sell the best possible products. The other part is ensuring our growing team have the tools and systems they need, so I can be looking into software solutions, the optimum meeting schedules, keeping the office in tip-top shape and making sure there's hot coffee every morning!
"We are at the forefront of dairy innovation and that creates a very exciting place to work"
Tell us about how you went about applying for your job. I came across the role through my network and after investigating Biotiful and the growing trend for gut health and fermented foods, I thought it was the right challenge for me!
The interview process was uncomplicated and to the point: the first stage was an introductory phone interview. This was followed by an interview with Natasha, our founder, at Whole Foods Market – a suitable location as it's such a showcase of innovative food and drink brands (and a regular place for the Biotiful team to check out what is new and interesting). The third stage took place at Biotiful HQ, with my future manager, the head of commercial. With the varied nature of the role and huge growth of the business, the questions focused on my skills and experience to tackle multiple tasks and challenges. One question that stuck with me was whether there would be enough to get my teeth into at Biotiful. There certainly has been! Every week presents a new opportunity and a new challenge to solve – it's non-stop but it's really rewarding.
What's the best part about working for a food company? Being a part of a market leading company in innovation and product quality is exceptionally fulfilling. I get to be in a business that is reinventing the dairy category with an upgraded version – kefir! We are at the forefront of dairy innovation and that creates a very exciting place to work.
And what's the biggest misconception people have about working in food & drink? My partner often calls me a "posh milkman" as a key focus of my role is ensuring the perfect examples of our innovation reach commercial partners on time, looking (and tasting!) amazing. I have to say that no matter how much I would like one, I unfortunately don't have a little electric kefir float to deliver our delicious dairy drinks and snacks across the UK and beyond!
What advice would you give to other young people looking to get into the food & drink industry? Don't be restricted by your background. Seek out careers within food and drink companies that you are passionate about. There are a vast amount of opportunities to develop into roles that might not seem the most natural fit for your experience. You can develop new skills and talents whilst on the job and end up in a role you never originally considered possible.
What's your ultimate career dream? I am really into great quality food, speciality drinks, live music and the innovation behind them all. I dream one day of converting an industrial unit into a microbrewery, tap room and innovative canteen for people to enjoy live music, participate in workshops, drink craft beer and eat delicious, healthy, well-priced food.