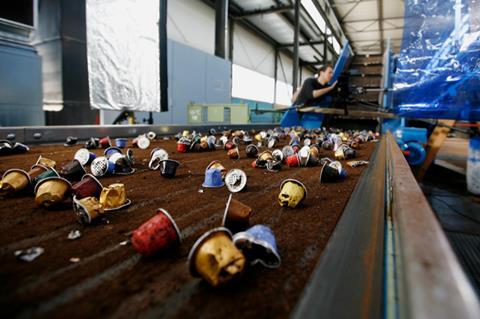 Nestlé has revealed the details of its new coffee pod recycling scheme, Podback.
Podback, whose existence was first revealed by The Grocer in January this year, will take the form of a non-profit programme run in partnership with fellow coffee giant JDE, spanning Nespresso, Nescafé, Dolce Gusto and Tassimo.
The scheme will offer kerbside collection of coffee pods alongside regular waste and recycling, which has previously not been possible with the UK's recycling infrastructure.
Nestlé said the duo was in "advanced" talks with Exeter City Council, Cheltenham Borough Council and South Derbyshire District Council to become the first UK districts to offer kerbside collection.
It was also "in ongoing discussions with major retailers to facilitate a 'handover at home' option, meaning consumers can have their used coffee pods collected for recycling when they have their groceries delivered", Nestlé added.
Shoppers will also be able to drop pods off at Collect+ Yodel drop-off points, of which there are 6,500 across local stores in the UK.
Collected pods will be taken to re-processors to separate packaging from the used grounds before being recycled.
"Together with Nestlé, we are calling on the entire industry to put commercial rivalries aside and collaborate, working together with other brands and retailers to make it as easy as possible for our consumers to recycle their pods," said JDE UK & Ireland marketing director Toby Bevans.