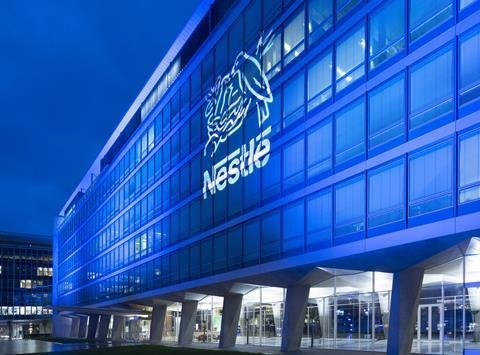 Nestlé has taken another step in its efforts to reshape its portfolio towards fast-growth categories with the sale of its skincare business.

The globe's largest food group announced on Thursday it had entered into exclusive negotiations with a consortium led by Swedish PE firm EQT and the Abu Dhabi Investment Authority over the sale of its Nestlé Skin Health division.

The deal values the arm, which was put up for review in September and has annual net sales of CHF2.8bn, at CHF10.2bn (£7.9bn).
The sale is part of a wider strategy shift under chief executive Mark Schneider to shed non-core assets and refocus the business on key growth areas of coffee, water, petcare and nutritional science.

Analysts at Societe Generale said the deal represented a fair price for the asset, adding: "We continue to see this as another part of the streamlining of Nestlé, which we expect to continue for the next two to three years… … The exit from Skin Health is another reason we also expect an announcement in the coming months of a gradual further exit of the 23% stake in L'Oréal as well."
Nestlé shares were up 0.9% to CHF99.58 on the news and have surged by 30.7% over the past year to their highest ever level.

Elsewhere this week, shares in high street food-to-go stalwart Greggs jumped to their highest-ever level after its fourth profits upgrade in just five months. The bakery chain said sales since year-end have continued to grow "very strongly", boosted by the rollout of its vegan sausage roll across its network. This "exceptional" like-for-like sales growth means the chain now expects "materially higher" sales and underlying profits for the current financial year.

Shore Capital hailed the "outstanding" trading update, but warned the "strength of delivery over the past 12 months and the broader qualities of Greggs' management team" need to be weighed against "concerns over the sustainability of the growth implied in such demanding valuations".

Finally, Premier Foods may have posted an annual pre-tax loss of £42.7m in the year to 30 March due to exceptional costs relating to pension recalculations and writedowns, but analysts were encouraged by the underlying performance of the beleaguered UK food group.

Total group revenues for the year were up 0.6% to £824.3m, with core trading profit up 4.5% to £128.5m and a further £26.5m of net debt paid off. Jefferies called the announcement "a confidence-building update", noting the group "delivered ahead of consensus expectations despite an exceptionally warm summer in 2018 and hiccups in international business and the supply chain".
The market was less enthused, with Premier shares remaining flat at 35.8p and edging down to 35.5p by Thursday lunchtime.