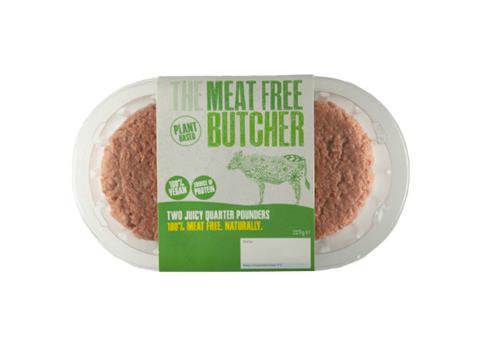 Aldi has hopped on the Veganuary bandwagon with the launch of a new meat-imitating burger.
The discounter said its own-label Meat Free Butcher Quarter Pounders (rsp: £2.49/two-pack) would appeal to vegans and meat-reducers alike.
The vegan burger's key ingredient is soya protein, processed to look, taste and 'bleed' like a beef burger due to the addition of beetroot. Hailing the SKU as "the most meat-like but meat-free quarter pounder on the market", the retailer said the chilled patties successfully replicated the taste of a beef burger.
It would rival competitors like the pea protein-based Beyond Burger and Vivera's Veggie Quarter Pounder with its competitive price point, at £2.99 less than Beyond's £5.50 rsp, it added.
Aldi has been developing its plant-based burger recipe for a year, aiming to capture a smoky flavour it felt was often lacking in meat substitutes.
It comes after the retailer rolled out a raft of vegan NPD at the beginning of the month to coincide with the start of Veganuary. Its Rainbow Vegetable Stew (rsp: £2.19) was unveiled on 2 January, containing four of the recommended 5 a day servings of fruit and veg, while it also brought back its single-ingredient bean spaghetti range to its special buy aisles.
Its plant-based range also contains a host of ready meals under its exclusive Soulful pot brand, in addition to Hellman's Vegan Mayo.