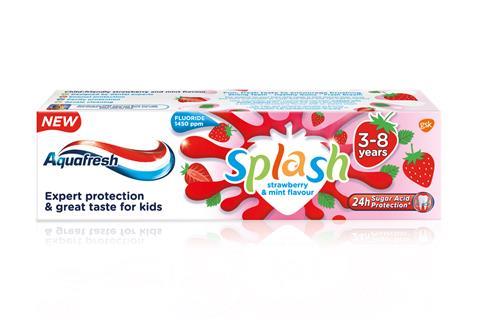 Aquafresh is hoping a move into fruit flavoured toothpastes will stem its decline in sales.

The GSK-owned brand has launched a trio of fruit-flavoured ­toothpastes it said would "add some excitement to brush time".

Aquafresh Splash is a strawberry and mint toothpaste aimed at children, while Aquafresh Senses is a duo of flavours - Energising Grapefruit, Lemon & Mint and Refreshing Watermelon, Cucumber & Mint - aimed at luring adults back to the brand.

In past years the brand has focused its endeavours largely on children rather than adults. It suffered a steep decline in value sales in 2019, falling by 12.5% to £23.3m, on volumes down 12.1%, as shoppers ditched brands - as well as supermarkets - for discounters and bargain stores [Nielsen 52 w/e 7 September 2019].

"Almost all" toothpastes currently on the market centred around mint, said Aquafresh senior brand manager Ben Court. Aquafresh wanted to "shake things up", he added.

The new SKUs will hit Asda from March (rsp: £2/75ml) with a smaller tube size also available in the children's flavour (rsp: £1.55/50ml).