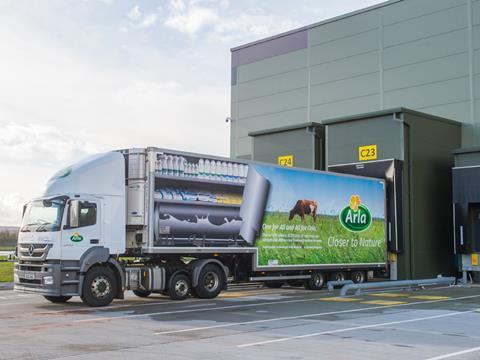 Arla is pushing further into the UK yoghurt category with the launch of a low-fat and reduced-sugar yoghurt range under its own brand.
The new four-packs (rsp: £1.69) contain 30% less sugar than standard yoghurt and 62 calories per 125g pot. They are available in four variants – Strawberry, Peach & Raspberry, Vanilla, Blueberry & Raspberry – and are currently on shelves in Tesco and Morrisons.
A spokeswoman for Arla said the range had been launched to "fill a gap in the market for an everyday healthy yogurt for the family" and would be rolled out to other supermarkets "this summer".
Arla launched Skyr Icelandic-style yoghurt and a quark range under the name Arla Protein earlier this year, and has previously tried to make a move on the UK yoghurt category with Squeeze Yoghurt – a pouch product aimed at teens – which was pulled after six months.
Its decision to launch a mainstream yoghurt four-pack aimed at families will be seen as a sign it is now gearing up to make a more serious move on a category dominated by the likes of Müller, Danone and Yoplait.
In January, Arla Foods UK category director Stuart Ibberson said Arla hoped its foray into yoghurt would help strengthen its position as "the leading dairy company in the UK".