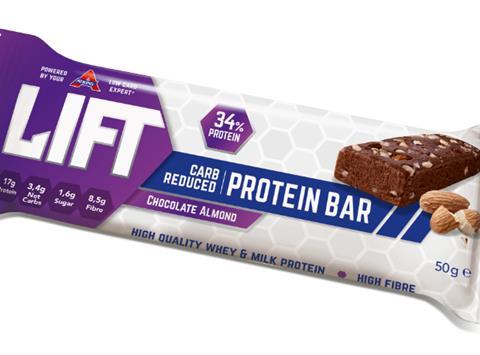 Atkins, the low-carb diet programme, is debuting Lift, a low-sugar protein bar range aimed at the sports nutrition category.
Rolling out now in Boots, the NPD claims to help repair and rebuild lean muscle mass. It is available in Chocolate Almond, Chocolate Chip Cookie Dough and Peanut Caramel variants, with an rsp of £1.99 per 50g bar. Each contains 17g of protein and as little as 3.3g of carbohydrates, of which around 1.5g are sugars.
Protein played an important role in repairing and restoring muscles post-workout, said Mia Gambrell, brand manager for Atkins Lift. "But many sports bars on the market are loaded with carbs and sugar, creating an energy spike and subsequent crash after a workout."
The launch comes after Fulfil Nutrition, an Irish startup, rolled out its vitamin-enriched low sugar bars into the UK across WH Smith and Holland & Barrett stores.
The six-strong lineup range is available in Peanut & Caramel, Chocolate Caramel & Cookie Dough, White Chocolate & Cookie Dough, Coconut & Chocolate, Milk Chocolate & Mint, and Cookies & Cream variants, with an rsp of £2.29. Each 55g bar contains nine vitamins, 20g of protein and no more than 2.7g of sugar.