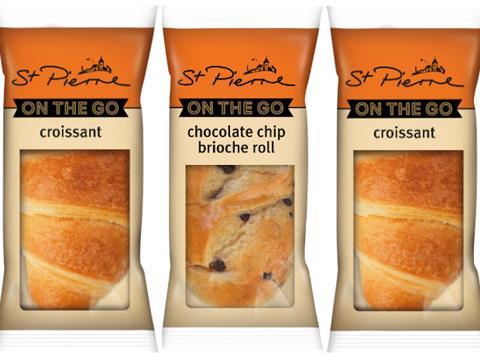 St Pierre, the French bakery brand from Carrs Foods, is taking on chocolate countlines with the launch of its first on-the-go lineup of sweet snacks.
A nine-strong range of individually wrapped SKUs includes the new Chocolate Chip Brioche Roll, Caramel Cake Bar and Croissant, as well as two longstanding Belgian Waffle variants, Butter and Milk Chocolate (rsps: 69p-£1).
St Pierre's on-the-go range was a first to market launch, claimed Carrs Foods marketing director Tim Boote. The brand had produced the waffles "for a few years, but we didn't have anything to put with them" he told The Grocer. "We needed to build this range up."
Rolling out from 2 July with a focus on the convenience channel, Carrs was offering "really good margins to the retailers to take on countlines" Boote added. The on-the-go lineup was a departure for St Pierre, which had previously focused on multipacks, and the variety would suit different occasions throughout the day. "As far as we can work out, there are no other brands that have the breadth of range that we have under St Pierre in the UK".
Having spent almost a year developing the new lineup, Carrs is already looking at how to extend and refresh it in about a year's time. "This is our big focus this year," Boote said.