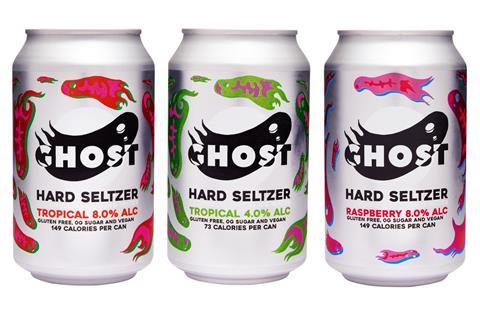 Beavertown Brewery has launched a standalone hard seltzer brand.
Called Ghost, the eight-strong range comprises four different strengths and flavours (rsp: £2.40-£3.25/330ml).
They are: Lemon (2.5% abv & 5.5% abv); Raspberry (2.5% abv & 8% abv), Peach (4% abv & 5.5% abv), Tropical (4% abv & 8% abv).
The drinks, which launched yesterday (30 November), are available to buy online via the brand's website and at its Corner Pin pub in Tottenham, which opened in September.
A mixed case of 12 cans will also be available to purchase online (£30/8x330ml).
Weighing in at 46-149 calories per can, with no added sugar, they were "the perfect option for those looking to cut back without compromising on flavour", said Beavertown.
The eight-strong range would "suit every taste and occasion", it added.
It comes after the brand recently teamed up with Dash Water to launch its first ever hard seltzer.
The 4.5% abv drink – which launched in August – was a limited edition grapefruit, pineapple and guava-flavoured seltzer brewed by the two brands to celebrate Beavertown's ninth anniversary.
In the same month it launched a 4.4% lager, called Bones, which joined its core range. The brew is billed as having a "fresh taste and smooth, clean aftertaste".