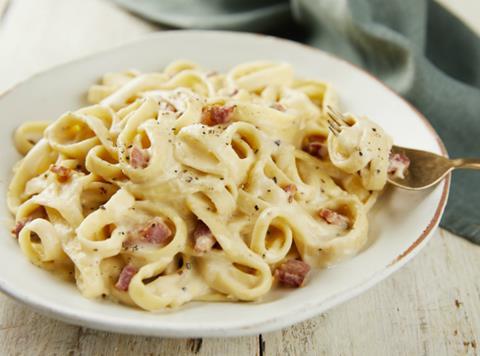 Bella Italia has partnered with Tesco to launch a range of frozen ready meals based on the casual dining chain's à la carte menu.
The 10-strong lineup across starters, mains and desserts was developed by Bella Italia executive chef Vittorio Lettieri "to build on the authentic Italian dishes proudly served in restaurants".
The products used the same ingredient suppliers as dishes served in Bella Italia's 111 UK locations "wherever possible" said the Casual Dining Group-owned business. This helped maintain "the same integrity, quality and high standard of product that our customers know and love".
Available now, the SKUs include Funghi Arrosto, Beef & Red Wine Ravioli, Carbonara Pancetta and Tiramisu – with prices from £2.50 to £4 (106g to 500g).
The NPD highlighted Bella Italia's "commitment in utilising its knowledge, experience and expertise to target different markets within the UK" the business claimed.
The restaurant chain had "a wealth of experience that can be utilised to tap other markets, such as retail" said its chief operating officer, James Spragg.
"As well as focusing on menu innovation and creating exceptional dining experiences, we're also determined to evolve and find new ways to capitalise on our expertise and experience."
Bella Italia was "immensely proud of our brand and the progress we have made on menu innovation, championing authentic and healthy flavours and produce over recent years" Spragg added. "We are confident that the rigorous testing and quality control measures we have put in place with Tesco will guarantee an end product we're both proud of."
The launch of Bella Italia frozen ready meals "was great news for our customers" said Tesco. "It makes it easier than ever before to get the fabulous flavours of Italy on the dinner table.