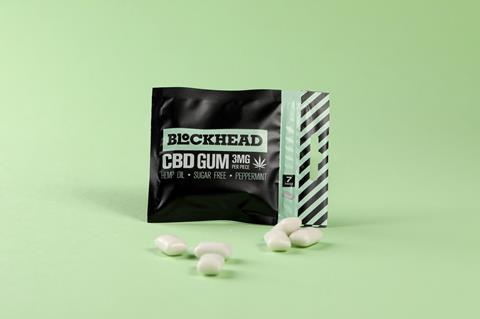 Blockhead has launched what it claims is the UK's first CBD-infused chewing gum.

The brand has created a gum containing 3mg of CBD per piece, which it said allowed people to absorb CBD faster than other methods on the market. It is also vegan and sugar-free.

CBD has a notoriously strong taste, which Blockhead CEO Danny Lowe claimed was mitigated by peppermint and menthol.

"We had to get that out of the gum - there's none of that horrible pondwater taste to it at all," he said.

"If you were to have the gum without the CBD and hemp oil it would be one of the strongest gums you could possibly taste - so much peppermint and menthol - but when you chew it, it feels almost like a sweet mint because of the way the CBD and hemp dulls the flavour."

CBD was "not just being used by one group of individuals but across a number of different ages", he added. "And chewing gum is a really fun and enjoyable way of getting the CBD into the body."

The gum has rolled into independents, with listings in a major retailer shortly to be announced (rsp: £4.99/pack).

Brands are not currently allowed to make any health claims around CBD products, but it is believed by some to reduce anxiety and help with issues such as insomnia and epilepsy.

Lowe said he expected consumers' and regulators' understanding of CBD to change over time. "At the moment you are just relying on people's individual responses to CBD," he added.