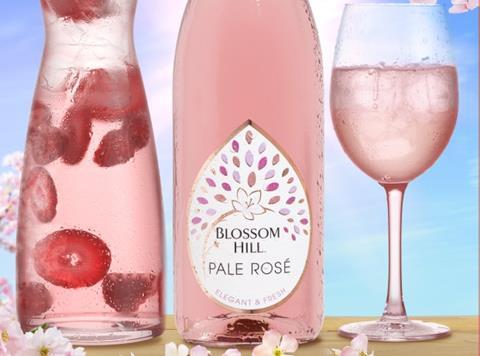 Treasury Wine Estates has unveiled a Pale Rosé variant for Blossom Hill with an eye to rejuvenating sales of pink wine.
The 11% abv wine is set to roll out over coming weeks to Tesco, Asda, One Stop, Nisa and wholesalers with an rsp of £6.50/75cl.
Drier, crisper rosés were "showing strong signs of growth in a category that is having challenges at its more traditional end" said TWE.
One of rosé category's main difficulties in recent years had been "its inability to hold the interest of consumers". Drinkers had abandoned the wine in favour of fruit cider, mixed spirits and prosecco - but they were now starting to return to rosé, attracted by "the emergence of paler, drier, more refreshing styles".
The launch of TWE's Pale Rosé will be backed by a push encompassing social media and a sampling campaign "to demonstrate the difference of the product" compared with other Blossom Hill wines.
It follows the October launch of rival brand Jacob's Creek's 12.4% abv Petit Rosé, priced at £8 for 75cl. However, TWE's offer was more "accessible in both price point and taste profile" said the company's Europe marketing director Kirstie McCosh.
Blossom Hill was "perfectly placed to reclaim those shoppers lost to other categories" she added. "Innovation is the core of the future growth strategy of the brand and we have an active pipeline to support this."
Pale Rosé was "the first opportunity for shoppers to see the ambition we have for the brand, and you will see more examples of this kind of work over the coming months and years" said McCosh.