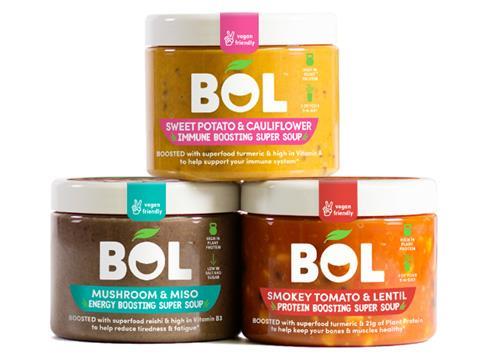 Bol Foods, the meal pot brand founded by ex-Innocent head of food Paul Brown, has expanded its portfolio with Super Soups.
The three-strong range of vegan-friendly soup will roll out from 9 November with a 'high in plant protein' claim. They came in response to growing demand for "more interesting and healthier soup options, as well as plant-based protein alternatives" said Bol.
Developed in collaboration with chef and cookbook author Nicole Pisani, the three variants are Smokey Tomato & Lentil Protein Boosting Super Soup; Sweet Potato & Cauliflower Immune Boosting Super Soup; and Mushroom & Miso Energy Boosting Super Soup (rsp: £2.75/500g). They offer between 2g and 4.2g of protein per 100g, and provide up to three of the 5 a day. Bol plans to double the lineup in January.
The brand wanted to "revolutionise the soup category" said Brown. "Taking classic soup recipes, we have reinvented them with the Bol twist and boosted them with superfoods and vitamins."
Portion size had been a key consideration in developing the products, he added. "So, unlike other brands, you won't be left with too much for one person, but not enough for two."
Super Soups' launch comes after Bol axed its meat lines in June, committing to be wholly plant-based.