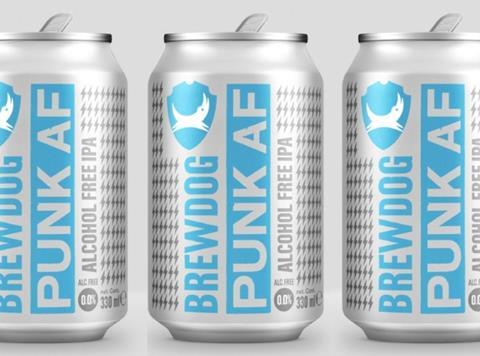 BrewDog is to release a 0.0% abv version of its bestselling Punk IPA.
The brand's founder, James Watt, tweeted today (15 January) that BrewDog was "working on" an alcohol-free version of the brew, called Punk AF (AF being an abbreviation of 'alcohol free' and 'as f**k').
The new brew would "complement" Nanny State, its longstanding alcohol-free beer, Watt tweeted. No further information was given as to when it might be released.
The 0.5% Nanny State is already one of the UK's top 50 ale brands, having grown value sales by 69.4% (£1.7m) to £4m last year [Nielsen 52 w/e 8 September 2018].
BrewDog's first ever alcohol-free sour beer, the 0.5% abv Raspberry Blitz, also launched last year, rolling into Tesco and Asda.