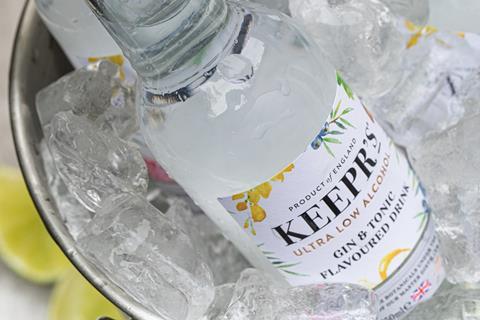 Posh spirits brand The British Honey Company is to make its debut in the low and non-alcoholic drinks category with an ultra-low alcohol gin and tonic RTD.
Keepr's (0.5% abv), is infused with 12 botanicals and a "splash" of the business' honey. It will roll out in 250ml glass bottles through the brand's website and Amazon (rsp: £2.75), with the brand recommending it be served over ice with a wedge of lime and sliced fresh ginger.
The drink itself had "hints of coriander and cardamom" with quinine to deliver "the distinct flavour of a classic gin and tonic", said the brand, with "the complexity of juniper and citrus".
British Honey Company commercial director Oli Williams said the brand wanted to tap the "surge in popularity for low and no-alcohol products in response to changing consumer behaviours and healthier lifestyles, particularly from younger consumers".
"Whether you are a designated driver or you are simply trying to cut back on alcohol and sugar, this product allows consumers to explore their sober curiosity."
William Reed – the publisher of The Grocer – has launched a new exhibition exclusively for the low & no category. For more information, visit low2nobev.com.