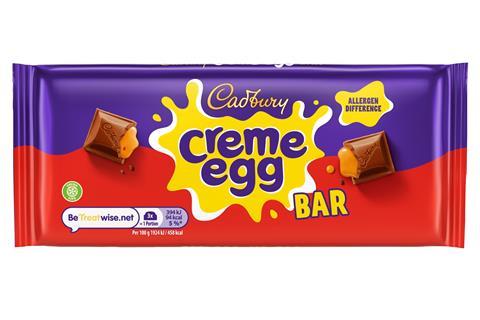 Cadbury has unveiled its first Creme Egg sharing bar for the UK. Billed as "perfect for both sharing and self-treat occasions", the 123g tablet (rsp: £1.80) will be available for order next month.
It is similar to the limited-edition 180g Cadbury Dairy Milk sharing bar filled with Creme Egg fondant added in 2019 in Australasia
The latest UK launch is not the first time Cadbury has brought a Creme Egg chocolate bar to the UK.
In 2008, it expanded the Creme Egg brand into a countline with Twisted, a fondant-filled milk chocolate bar.
While the Twisted countline was discontinued in 2012 amid a sales decline, a mini version is still available in Cadbury Heroes selection boxes.
The confectionery giant was "excited to bring innovation to the category once more and continue to grow the brand's impact", said Cadbury Easter senior brand manager Charlotte Parkes.
It comes as Creme Egg's 'Find the winning egg' push is set to return for a third year. Shoppers who unwrap a rare half-milk chocolate, half-white chocolate egg will each be able to claim one of "hundreds of cash prizes", including a top prize of £10,000.
There will be "more winning eggs than ever before" in 2024, according to Cadbury, which will also be adding a 360g gifting format for Mini Eggs.