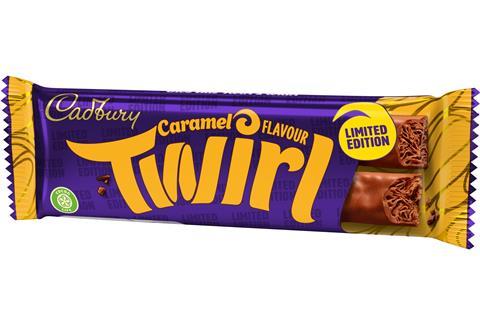 Cadbury has launched a limited-edition caramel flavour Twirl.
The bars, which blend the Cadbury staple's chocolate with caramel, have hit stores this month, backed by a major out-of-home campaign (rsp: 69p/43g).
To mark the launch, the brand hid a series of adverts around the UK, such as the side of the River Thames, so they would only be viewable at low tide, as well as on a remote island off the coast of North Wales with a population of just two people, offering those who spotted the ads a chance to try the bars.
Owner Mondelez had "seen just how popular flavours are within chocolate singles", said Cadbury brand manager Frederike Grohmann, citing the popularity of Twirl's previous orange limited-edition flavour, which "became Cadbury's biggest-selling single bar" when it launched.
The rollout of the bars will be further backed by PR, digital and social media activity, as well as in-store PoS materials.
It marks the latest in a series of moves from the chocolate giant this year.
February, for instance, saw Cadbury roll out 'twist and seal' packs across its Cadbury Duos range in a bid to "promote healthier snacking".
Prior to that, The Grocer revealed it was potentially eyeing the launch of a range of Mega Buttons, after it applied to register the name as a trademark with the Intellectual Property Office.