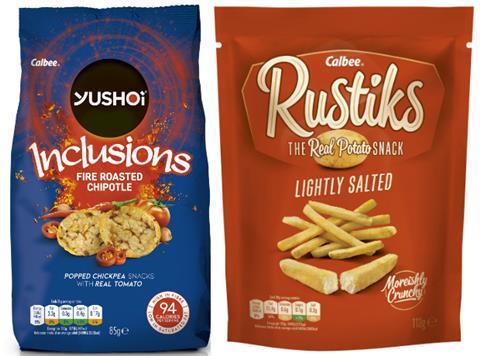 Japanese snacking brand Calbee is expanding its burgeoning UK portfolio with a new Yushoi range and the introduction of Rustiks, its first brand outside of the better-for-you sector.
Set to roll out before the end of July, the lower-cal Yushoi Inclusions comprises puffed chickpea crisps with real vegetable inclusions.
Tapping demand for more intense flavours, variants will be Fire Roasted Chipotle with pieces of tomato, and Caramelised Onion & Balsamic Vinegar studded with onion.
Per 100g, the duo contain no more than 451kcal and 1.4g satfat. They will land on shelf in an 85g pack (rsp: £1.79), with a 23g bag set for later in the year.
The launch of Inclusions came after Yushoi had "gone from strength to strength, experiencing 42% growth over the last 12 months" said Calbee, which made its UK debut in 2015 with Yushoi pea snacks.
Marketing manager Mike Walker added that the company was "getting to the stage where we can bring through great innovation".
It is also set to launch a more indulgent option in the shape of Rustiks – potato crisps with the shape and taste of French fries (rsp: £1.50/113g). They will launch later this month exclusively into Tesco in Lightly Salted and Salt & Vinegar. Unlike the Deeside-made Yushoi, Rustiks is produced in the US, where it is sold under the name Whole Cuts.
"We have enjoyed huge success in the better-for-you sector but know there is a large section of consumers who still want the chance to indulge themselves on occasion," Walker said.
"We're really excited about the new ranges and will be continuing to look for opportunities to introduce completely new snacking innovation to the UK market."