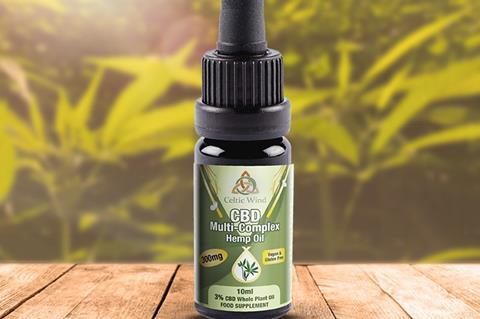 Irish CBD products maker Celtic Wind Crops has expanded its range of supplements to tap the UK's growing cannabidiol craze.
The brand has unveiled three SKUs of CBD Multi-Complex Hemp Oil: a 3% strength variant in a 10ml bottle, and a 10% version in 10ml and 20ml (rsps: £20.60-£85.85).
Joining Celtic Wind's existing 5% oil, they are made from hemp grown in County Down without fungicides, pesticides or herbicides, and then cold-pressed.
Each variant – available from Lloyds Pharmacies – was "naturally packed with the whole hemp plant goodness, including phytocannabinoids, terpenes, amino acids, essential minerals and vitamins, omega-3, 6 and 9" the brand said.
It had seen demand for CBD oil "really take off – particularly in the past couple of years" said CEO and co-founder Paul McCourt.
The market is the UK was worth £200m "and expected to grow by 30% in the next year alone" he added. "As the only Irish brand producing CBD oil, and the only certified food trade-regulated CBD oil producer, we see ourselves as category leaders."