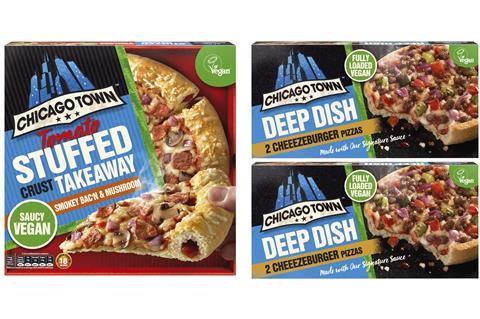 Chicago Town is boosting its vegan lineup with a duo of new pizzas.
They are: Vegan Deep Dish Cheeezeburger, which is made with burger sauce, vegan mince, red onions, tomatoes, gherkins and mozzarella alternative; and Vegan Tomato Stuffed Crust Takeaway Smokey Bac'n and Mushroom, which is topped with a smoked gouda alternative and smoky vegan bacon.
The duo were "aimed at plant-based eaters and those looking for a meaty feast", said the brand.
The pizzas will hit Tesco and Morrisons this month, priced at £2.50 for the Vegan Deep Dish Cheeezeburger pizzas (two-pack) and £3.50 for the Vegan Tomato stuffed Crust Takeaway Smokey Bac'n and Mushroom pizza.
Chicago Town spokeswoman Rachel Bradshaw said the range was aimed at shoppers following various diets. "We created [the pizzas] for our vegan pizza lovers, but know that anyone can enjoy them – vegetarian, flexitarian, anyone who has a passion for pizza."
Both new lines are registered with The Vegan Society and will feature its Vegan trademark on pack.
The brand made its debut in vegan in December 2019 with a BBQ jackfruit-adorned pizza.