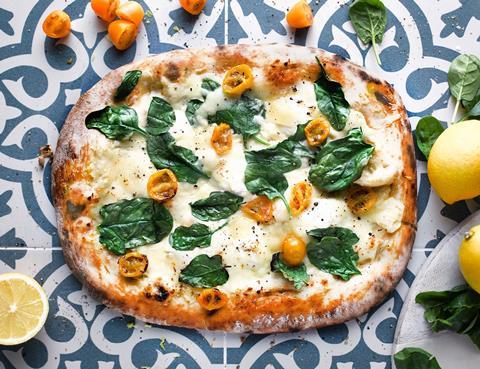 Co-op has unveiled its new authentic Italian pizza collection, which will replace its Irresistible range later this month.
With flavours inspired by various regions of Italy, the lineup features two single serve (rsp: £3.40) and six sharer (rsp: £5.50) pizzas, each with a sourdough base created with Italian Arturo dough. "It's the most authentic Italian sourdough pizza in the market," said product developer Kevin Sargent.
"We've carefully developed every element, from the exclusive 75-year-old starter dough and its 24-hour fermentation process to the San Marzano tomato sauce."
The lineup includes two béchamel sauce pizzas, an ultra-thin base Truffle Salsiccia (rsp: £3.40/215g) with salami, Parmigiana Reggiano, truffle and mushrooms, and a vegetarian Spinach & Ricotta, using Sicilian lemon ricotta, pecorino cheese and spinach leaves (rsp: £5.50/465g).
The rest of the range comprises of a Margherita, spicy Salami Diavola, Chicken Arrabbiata and a single serve Antipasti.
The final SKU, Prosciutto & Rocket, features separately packaged fresh rocket and prosciutto to be added after cooking.