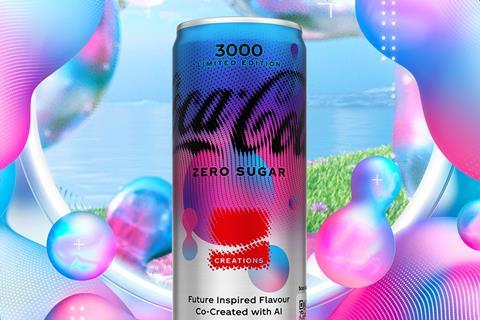 Coca-Cola has launched a limited-edition zero sugar drink, co-created by artificial intelligence.
Called 3000, the drink is the latest iteration of Coke's Creations series.
It aimed to offer shoppers "a refreshing taste and a glimpse of what the future could look like through Coca-Cola's new AI-powered experience", said Coke.
By scanning a QR code on the can, shoppers will be redirected to Coke's Creations Hub, where they can use its 3000 AI lens "to glimpse into the future".
The online experience and 250ml can designs were created by Coke using AI to reflect how we "envision the future through emotions, aspirations, colours, flavours and more".
"Inspired by the timelessness of Coca-Cola, we want to celebrate everyone's idea of what the future might look like," said Oana Vlad, senior director of global strategy at The Coca-Cola Company.
It follows the launch of Intergalactic, Marshmello and Dreamworld limited-editions in 2022 – and Movement earlier this year.
Rob Yeomans, VP for commercial development at Coca-Cola Europacific Partners GB, added: "These limited editions are about more than simply driving a short-term sales burst; they get people excited and talking about our brand, which is proven to engage new shoppers."
According to Kantar data, "one in five shoppers that bought our Coca-Cola Creations last year were new to the Coca-Cola Zero Sugar brand", said Yeomans [Kantar take-home purchasing panel 2022].
Additionally, there was a "sustained volume sales increase for the brand in the months that followed each launch", Yeomans claimed.