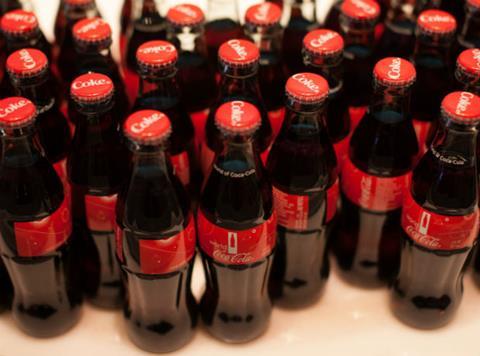 Has Coca-Cola lost the plot? That was the question many commentators were quietly asking themselves when it announced the launch of mango- and peach-flavoured variants in the UK last month. No sooner had everyone recovered from that bombshell than it was talking about a cucumber Sprite. This all coincides with the launch of three new brands into the UK market: Adez, Honest and Fuzetea.
Now it's branching into alcohol for the first time with a 'chuhai' drink – a cocktail of distilled spirits, fruit juice and carbonated water – in Japan. It all seems very radical. Given the sudden pace of innovation, you could be forgiven for thinking Coca-Cola was throwing everything at the market and seeing what sticks. And, as the soft drinks tax approaches in the UK, diversification may seem a sensible option.
But these innovations are not as random as they may seem. A whopping 95% of drinks in Coca Cola's global portfolio are exempt from the sugar tax. In sales terms, that percentage admittedly may be higher. Yet Coca-Cola is at pains to point out that its sugar reduction strategy started 30 years ago with the launch of Diet Coke. So the flurry of NPD isn't a desperate response to the looming levy on the white stuff.
Careful research
At a central London briefing last week, the company explained it was all part of its strategy to 'grow our core and add more'. The 'grow our core' part is what's driving the zany flavours of Coke and is all a bid to the appeal to new, younger shoppers. (Interestingly, GB marketing director Simon Harrison said there are likely to be more flavours to come.) The 'add more' bit is the reason behind all this innovation. Any new products are based on careful research into their respective markets and what the upcoming generation wants.
The UK launch of Fuzetea, for example, is based on the growth of the iced tea market, which Harrison told the press is "going to explode in Britain". "We think it will really appeal to millennials who want to relax and unwind," he says. The brand is already present in other markets, where it has racked up a value of $1bn, so feels like a "safe bet".
Dairy-free smoothie brand Adez ticks plenty of boxes. It taps into the free-from boom and also the growing consumer focus on health. "It's no added sugar and dairy-free, which is important for the next generation of consumers," says Harrison.
Finally, Honest Kids appeals to the growing number of parents concerned about additives and sugar levels in children's food and drink (parents who may well shun Coke). "It's a simple product; just juice and water. Part of the reason it's been so successful in the US is it taps into parents who want to buy the best for their kids," Harrison explains.
Young women
The latest move into chuhai is similarly led by consumer demand. Japanese brewers have been making aggressive moves into chuhai (made with Japanese distilled beverage shochu) as its popularity surges. The fruit-flavoured, relatively low alcohol drink – the most alcoholic variants sit around the 9% ABV mark – is proving a particular hit with young women, having successfully shed its image as a cheap drink for old men.
As a genre that's peculiar to the Japanese market, it seems fairly unlikely to come over to the UK anytime soon. Jorge Garduño, president of Coca-Cola's Japan business unit, has said "many products that are born here will stay here".
Although considering the mood Coca-Cola is in, launch specialist agency Five by Five says we shouldn't rule out the possibility. "If the product's actually good and is a success, this could be high time for Coca-Cola to launch similar products in Western markets, especially the UK," says James Roles, sales and marketing director at Five by Five. "As the sugar tax comes into play next month and brands are forced to branch out and experiment, an alcoholic alternative could do wonders for the 130-year-plus institution."
Cucumber Sprite chuhai, anyone?